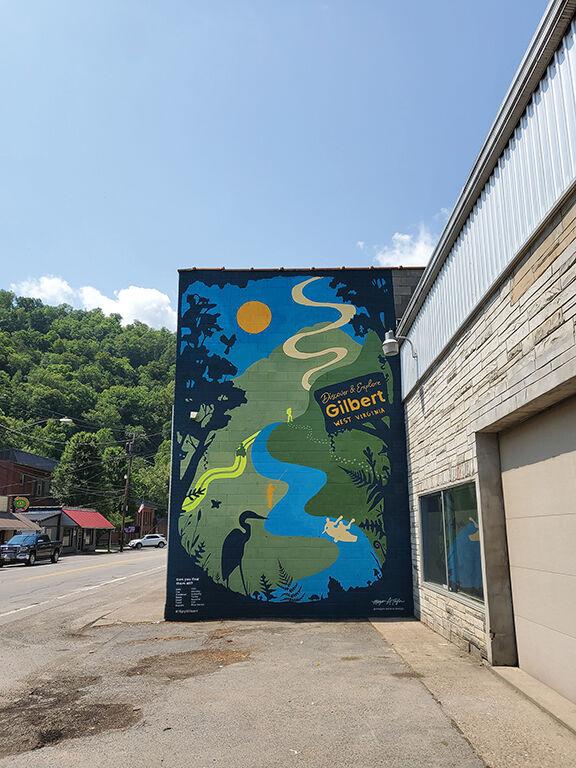 Using the sides of buildings to create canvases for artwork for the purpose of beautifying a town or city, promoting tourism and creating photo opportunities is a trend that is sweeping the nation. Like other areas, this trend as found its way to Mingo County with two wall murals completed this year in Delbarton and Gilbert.
Matt Harris, a Delbarton businessowner and member of the Delbarton Convention and Visitors Bureau, along with his wife Christy and fellow artist Kim McClanahan of Williamson have finished their painting in Delbarton about two weeks ago. It features the iconic Elk Creek Bridge, the railroad, off-road adventure, the Appalachian Mountains and a signpost with mileage to several Hatfield-McCoy Trailheads.
"We see these in other areas and they create focal points for a town," Harris said. "This one is the same way. As you come around the curve of Rt. 65 into Delbarton, it is the first thing you see. I am really proud of how this turned out."
Harris said the painting is meant to be a reflection of the town's mining history and a nod toward future adventure tourism throughout Mingo County with the historic bridge linking the two.
"This is something for both local residents and tourists," he said. "For locals, it is something fun and a good place for a selfie. For our trail riders and other tourists, a picture in front of the mural is a way to take home a memory."
The mural in Gilbert was completed a few months ago and is the work of Gilbert resident and graphics art graduate from Marshall University Megan Taylor. She believes projects like these are important for several reasons.
 "I think it is extremely important to create and observe art because it can be healing to most people," Taylor said. "I think art can be a helpful tool to inspire and bring positivity into our lives."
Taylor said she had wanted to something like the mural for a while and after graduating decided to set up a meeting with Gilbert Mayor Jennifer Miller to discuss the project. Taylor was ended up being hired by the town under the WorkForce West Virginia job development program and also designed the town's newly launched website.
"She came into my office to offer to volunteer to paint a town mural," Miller said. "I had no idea what tremendous potential lay ahead. Megan is a creative innovative designer and is creating professional level websites that are so well organized."
Taylor began design and prep work for the mural in October 2020 and completed it this spring.
 "I knew I wanted to highlight the flora and fauna from the area, as well as the common recreational activities people enjoy here," she says. "I initially wanted to accomplish a few things: use bright colors to liven up the area (especially in contrast to winter), create some sort of interactive aspect, and design the image for all ages to enjoy."