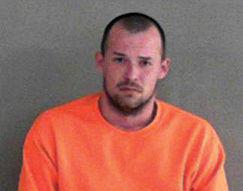 A Verdunville man was scheduled to stand trial in Mingo County Circuit Court on Monday for the murder of a Dingess resident in 2018. However, a plea agreement was made prior to the trial.
Shane D. Dempsey, 26, entered a plea on Thursday to charges of second-degree murder and unlawful assault last Thursday, according to Mingo County Prosecutor Duke Jewell.
Dempsey was given a sentence of 40 years for the murder of Roger Crum, 51, and one to five years on the assault against Rufus Wallace
According to police records of the event, a birthday party was being held in March 2018 at a weekend hangout in the Hurricane Branch of Twelve Pole Creek. It was described as "not a bar but a place where people hang out and play music and drink." Approximately 20 to 50 people attended the party.
After the party ended and most of the people had left, Jewell said, an altercation developed between Dempsey, Crum and Wallace. The incident resulted in the shooting death of Crum.
"It is still unclear what the argument was about," Jewell said. "They all have different stories but it seems to have happened after Dempsey overheard part of a conversation between Crum and Rufus."