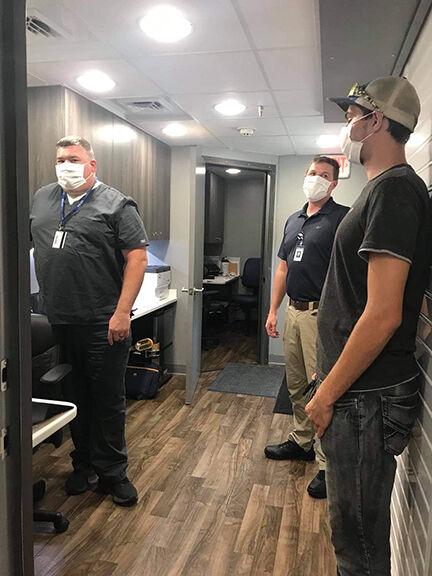 The Larry Joe Harless Community Center recently hosted the LUCAS mobile unit as part of the West Virginia University Low Dose CT screening for lung cancer, making the center the first site in Mingo County to provide the service, LJHCC officials said.
Officials said the LUCAS mobile unit is designed on the same concept as Bonnie's Bus, which makes breast cancer screening available to people on the local level.
With lung cancer being the second most common cancer in the United States for both men and women, as well as the leading cause of death from cancer, health officials said when it is discovered in its early stages it has a far greater chance of being successfully treated.
Partnering with Southern West Virginia Health Systems, LJHCC officials said "the LUCAS provided a full day's schedule of this screening to help detect and treat early lung cancer."
Chris Kelly, who is the PA (physicians assistant) at the Gilbert office, said he was pleased to provide this service to his patients.
" The most common cause of cancer death in the United States is lung cancer," he said. "In West Virginia, more residents die from lung cancer than colorectal, prostate, and breast cancer combined.
"The LUCAS unit will provide a screening service for southern West Virginia residents and increase the likelihood of survival with early detection.  If you have a question about meeting the criteria for this potentially life-saving exam, please do not hesitate to discuss it with your primary care provider. "
Kelly said lung cancer screening is recommended for certain individuals who smoke or used to smoke, but who don't have any signs or symptoms. Should a person have lung cancer but doesn't have any symptoms, Kelly said this usually means there's a chance to detect the disease early.
"We are pleased to offer programs to help keep our community healthy, and we plan to offer this service throughout the year," said Cheryl Mitchem, CEO of the LJHCC.