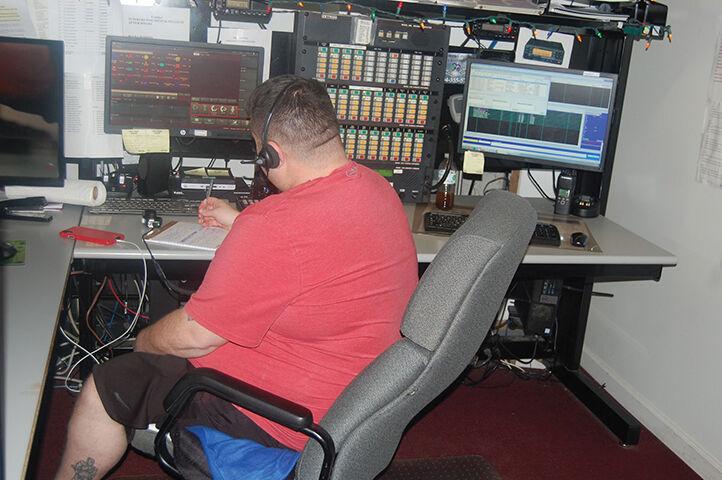 As a general rule, most people don't think too much about 911 dispatchers until they have an emergency.
However, when an emergency involving a family member, a friend, a co-worker, even a stranger arises, officials say the man or woman with the calming and reassuring voice on the other end of that emergency call, especially during these first frantic moments, suddenly becomes the most important person on the planet.
Which is very understandable, and why these emergency workers who offer the composed, supporting voice and assist the frantic caller, and who often can and do make the difference between life and death, are recognized each second week of April during National Public Safety Telecommunicators Week.
This year NPST Week is April 11-17. And, like all other counties throughout the country, Mingo County Emergency Management Director Doug Goolsby and the county as a whole are making sure that Mingo County's "behind the scenes heroes" are duly recognized as well.
"When other businesses closed or reduced hours due to the COVID pandemic, emergency services went right on…these guys work birthdays, holidays, every day 24/7, 365 days a year, and I don't think most people realize that," Goolsby said. "We have floods or other natural disasters all the time but these dispatchers have to be here because the emergencies don't ever take a break."
Goolsby said another thing most people don't realize is dispatchers are highly trained to do what they do, and that more times than not they are required to perform their duties while under tremendous stress.
"These people are highly trained individuals who work closely with other emergency service agencies, such as police, fire, and medical personnel," he said. "They're anything but just someone who sits and answers the phone whenever someone calls 911."
Goolsby said another thing most people don't realize is, though rare, there are instances when a dispatcher will receive an emergency call concerning one of their own family members.
"Our communicators live here, their families live here, and they simply never know if their first call of the day is going to be in regards to a stranger or a family member having been in serious car wreck, if a family member is having a heart attack, or if a family member's house is on fire and it's uncertain if they made it out safely," he said. "This job is definitely not for everyone because the pressure is oftentimes just so overwhelming. But here in Mingo County we have excellent dispatchers and I'd put them up against anyone's."
Matt Bucci, who has been a dispatcher for 18 years, said public safety telecommunicators have to be prepared for anything at any given time — sometimes even at times of unparalleled emergencies.
His personally most chaotic and stressful day, Bucci said, was the day Mingo County Sheriff Eugene Crum was shot and killed.
"It seemed like there were a million things happening all at the same time when Sheriff Crum was killed," he said. "There were so many agencies involved, news agencies were calling wanting information…it was just an unprecedented situation for everyone and one I hope we as a county never experience again."
Irrespective of the emergency, Bucci said, public safety telecommunicators have to unfailingly fall back and completely rely on their training if they are going to be 100 percent effective in the job.
"You'll have car wrecks, EMS calls, and fires all happening at the same time, so yeah, it can get very stressful at times," Bucci said. "But that's when all your training kicks in and you keep calm and you do what you have to do because lives or property — sometimes both at the same time — are on the line."