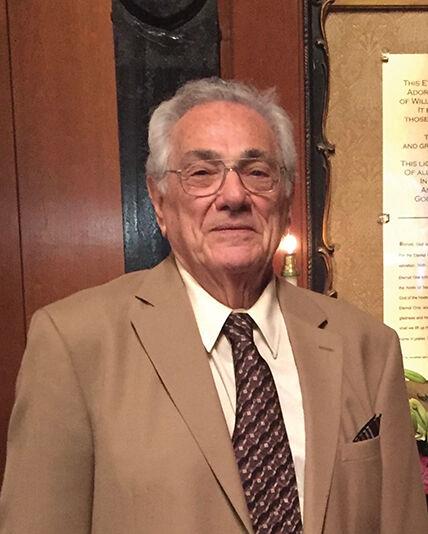 A longtime Williamson businessman and one of the last original South Williamson, Kentucky, Central Avenue residents William H. (Bill) Rosen died last week at the age 95.
Born Sept. 7, 1926 in Richmond, Virginia, Rosen was living in Palm City, Florida, with his second wife, Mildred, at the time of his death.
Following the deaths of his in-laws Charlie and Gertrude Ofsa who owned and operated the Cinderella Boot Shop in Williamson, Rosen and his first wife of 53 years, Betty, who preceded him in death in November of 2000, continued to operate the business until both retired in the early 1990s.
According to his obituary, Rosen grew up in Virginia and New York prior to his family moving to Washington, D.C., in 1941. After enrolling in the U. S. Army Reserve Special Training Program at age 17 and completing basic training, he attended Ohio State University.
During his many years in the Tug Valley area as well as while a resident of Stuart/Palm Beach, Rosen was active in several local organizations that included membership in the BPO Elks, Moose, Lions, Masonic Temple and Shriners.
He also worked closely with the American Red Cross, having worked disaster relief in the southeastern coast in 1989 following the aftermath of Hurricane Hugo.
Rosen also worked disaster relief at Ground Zero following the Sept. 11, 2001, terrorists' attacks on the World Trade Center in New York City.
Rosen additionally spent a great deal of his adult life officiating local and state championship high school football and basketball games in both West Virginia and Kentucky. In the years following his retirement, he returned to college and attained his BA degree.
Williamson Mayor Charlie Hatfield said Rosen, like many of the business owners who were considered the driving force of Williamson's economy during these years, was both well recognized and respected among both his fellow business peers and customers.
"Like my Dad and the other merchants and retailers, Bill Rosen and the Cinderella shoe store was well known and respected among the shoppers of Williamson's retail market," Hatfield said. "They worked hard and enjoyed a well-earned reputation as having been one of the finest shopping experiences in the region. I always enjoyed visiting with Bill and discussing local topics as Bill was involved in many civic organizations, and I too was a customer of his establishment."
Funeral services were held July 26 at the Weil Kahn Funeral Home in Cincinnati, with interment following at the United Jewish Cemetery in Montgomery, Ohio.
Memorial services are being planned for a later date in Williamson and Huntington.