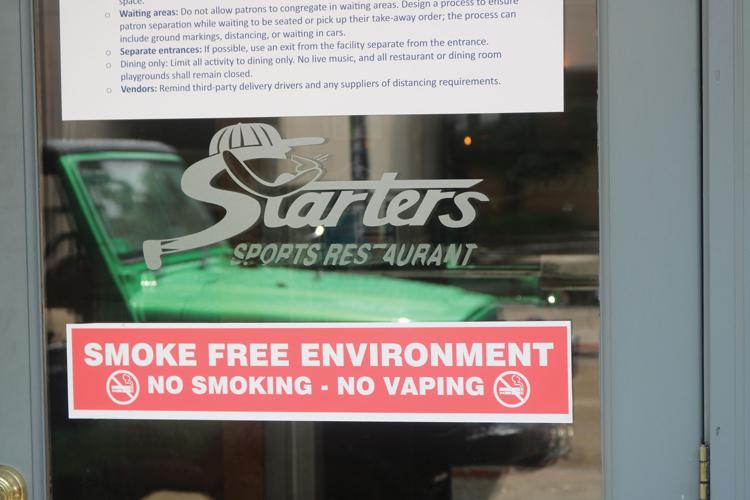 Last November members of Williamson PK-8's film studies class attended a Mingo County Board of Health meeting and requested that the board make the necessary amendments to its public smoking policy ordinance which would completely eliminate smoking and vaping in all Mingo County restaurants.
Since that time the MCBOH has been working to amend the policy. At last week's meeting, the board unveiled the new amended policy and held the first reading of the Mingo County Clean Indoor Air Regulation Amendment, which will markedly modify the current public smoking ordinance.
MCBOH officials said the current policy was put into effect in 2006, and, although regularly enforced, it only prohibited smoking completely in restaurants not serving alcoholic beverages. The exception allowed smoking in those ABC-licensed clubs and restaurants serving both food and alcohol whose total gross alcohol sales were 80 percent or greater than their food sales.
The old ordinance also did not take into account vaping, an alternative to cigarettes which essentially were not introduced in the U.S. until 2007 and did not begin gaining widespread popularly until 2011.
The amended ordinance, said Mingo County Health Department Administrator Keith Blankenship, per the U.S. Surgeon's Clean Indoor Air Regulation, now includes vaping devices known as e-cigs, Mods, vape pens and Juuls to be prohibited from public indoor places.
"These are all now included, which basically means anywhere traditional cigarettes are prohibited, vaping will also be prohibited," Blankenship said.
Blankenship explained the amended ordinance now also prohibits smoking/vaping in all restaurants, including those that serve alcohol that were exempted in the original 2006 policy.
"The new policy will now also include bars, so now all restaurants and bars in Mingo County will be smoke free and vape free," he said.
Regarding places of public lodging — such as hotels, motels, and rental cabins — Blankenship said an exclusion in the new Mingo County policy allows owners (if they choose this option) to provide up to 25 percent of their rooms as smoking accommodations for those guests who request them.
"This will be totally up to the owner whether or not they want to designate certain rooms to smoking...they can be completely smoke free if that's what they choose to do, however," he said.
Another change to the old policy, Blankenship said, deals with public buildings like restaurants and hotels that have designated rooms for special events.
"If a restaurant has a private room that people can reserve for special events like lunch or dinner meetings, parties, and other private functions, these now have to be smoke free as well," he said.
Per a 2003 West Virginia Supreme Court of Appeals decision allowing the exemption, Blankenship said residents in personal care homes who prior to 2003-2004 had smoking privileges will still have these privileges. Another exemption, he added, has to do with bingo halls.
"Bingo halls that distribute more than 100 bingo cards can still have smoking, and that's also due to a Supreme Court order," he said.
Also included in the revised ordinance, Blankenship noted, is the distance smokers will be required to maintain from a public building entranceway — which he said in the original ordinance was 10 feet, but following the expected start date of the new ordinance on Sept. 1, will be 20 feet.
Blankenship said the amended ordinance will be advertised for 30 days and the second reading will be held during the board's next meeting on June 23, at which time the public will have an opportunity to attend the meeting and ask questions and/or make comments.
"The ordinance will be advertised in the paper and people will have 30 days to review it and request a copy," he said. "The final reading will be on July 23 and after another 30-day period it will become effective, which technically would be August 23. However, it probably won't become effective until the first day of September."