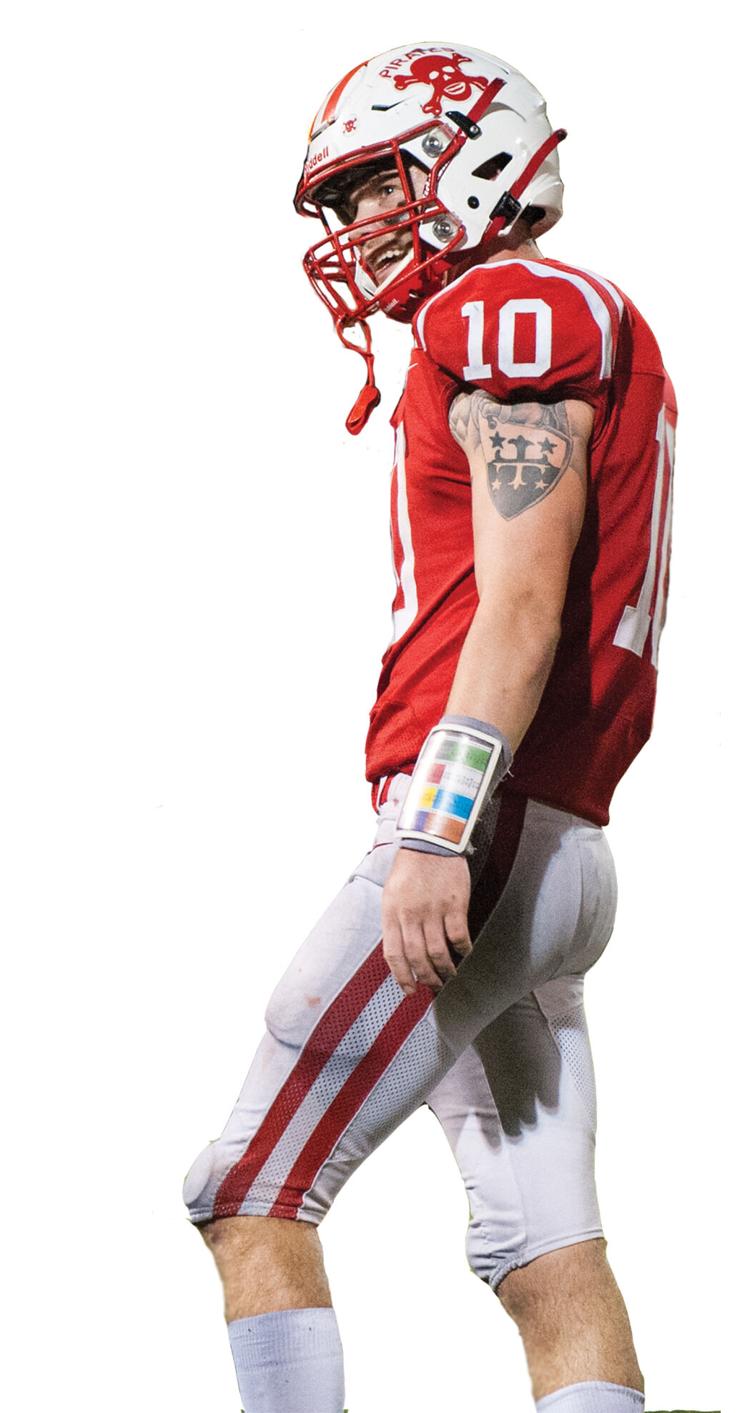 It's hard to pinpoint certain times when your life changes.
It's rare that you know the exact moment your life changes.
But for Belfry's Brett Coleman, he can pinpoint a life changing moment.
Monday morning, Coleman put pen to paper and inked to sign with the University of Miami (Ohio).
That moment, a boyhood dream became reality for Coleman.
"Every kid growing up, whoever plays football wants this opportunity," Coleman said. "I was just blessed enough to have it. I couldn't have asked to play for a better program or better coaches or being surrounded by a better community. It's just a big weight off of your chest when it comes to recruiting. That's what you want your ultimate goal to be and finally getting to do this is very gratifying."
Once he visited Miami (Ohio), his decision became clear.
"It was home," Coleman said. "It was one of those situations that you step into and you know this is where want to be for the next five years of you life. It's been every day that the coaches have kept up with me. They have kept up with every game, every practice, so it just felt like the most home to me. That meant everything."
Coleman just wrapped up his playing career at Belfry.
In 2019, he helped lead the Pirates to the Class 3A state championship.
He was the starting quarterback and safety for the Pirates.
He finished this season under center going 11 for 31 for 243 yards and three TDs. He was second on the team in rushing with 639 yards and nine TDs on 98 carries.
On defense, Coleman led the Pirates with 75 total tackles from the safety position.
During his career with the Pirates, he took over quarterbacking duties during his junior season.
For his career, Coleman is 26 for 70 passing for 636 passing yards and with nine TDs and two interceptions. He also rushed for 1,504 career yards and 21 rushing TDs.
Coleman has been starting at safety for the Pirates since he was a freshman. He led the Pirates in tackles during his sophomore season and his senior seasons.
Colemand finished his career with 291 total tackles.
This year has created a lot of chaos for college coaches and players as far as recruiting.
Coleman decided in January to commit to Miami (Ohio) and that turned out to be a great decision.
"That was the biggest blessing of them all because I got my offer back in January and I committed pretty fast," Coleman said. "Everybody was like, 'Why are you doing this? Why are you doing this?' It actually turned out to good because the worst thing is for these juniors coming up who are going to be seniors. The seniors in college get the extra year of eligibility, everybody in the NCAA does, so they're going to be limited in scholarships and that happened to some kids in this class which is sad too. I was lucky enough to have that early offer, so I had my spot already."
With so much uncertainty going on in the world, Coleman is going to early enroll and go ahead and attend Miami (Ohio).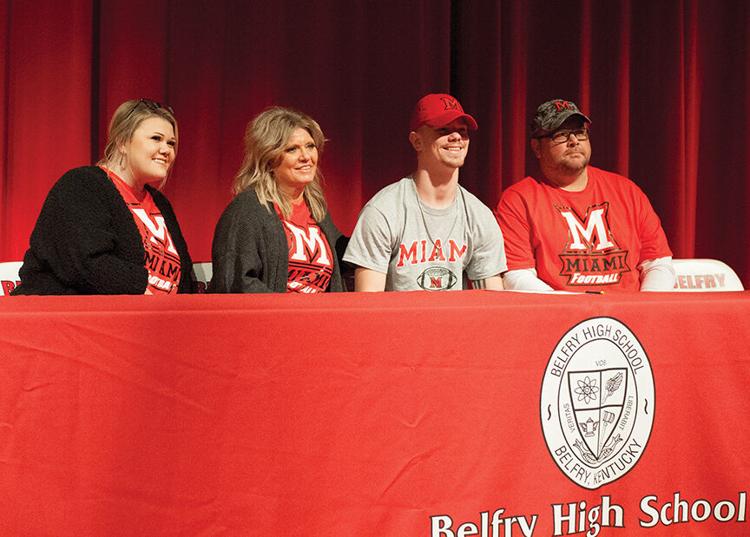 "I plan to attend in January," Coleman said. "I get to come in and do all the workouts, the spring practice before being a freshman. I did that mostly because of what's going on nowadays. Everybody knows that I played the other two sports, but it's a crazy world and you never know what's going to be next with it, so it was the best thing for me and my family to go ahead and get everything started."
Coleman will play safety at the next level.
"There is a position that they call 'spur' and it is like a hybrid safety," Coleman said. "So not only can I drop back in the pass, but they walk me up for blitzes and different run packages. I'm not the fastest in the world, everybody knows that, but I'm pretty big and I play the run pretty well, so they can walk me up, but I'm athletic enough to play the pass. That position kind of goes all the way around the field."
Miami (Ohio) has built a tradition of being a successful MAC school and has sent some good players to the next level after their college days.
"I've talked to coach (Chuck) Martin a bunch of times and he actually coached Harrison Smith at Notre Dame. He's an All-Pro safety for the Vikings. He was just talking about what a championship culture could bring to you and Miami (Ohio) can actually take you to the next level. You don't even think about it, but he said, 'With our coaches and our culture, you have a chance to play in the NFL more than you realize.' That was a big thing for me."
Belfry will always hold a special place in Coleman's heart.
"This school has meant everything," Coleman said. "Nobody really understands unless you come here. It's family. It's all we got here. There's no jobs. There's no nothing. All we got is football. Everywhere you go. You can walk in Food City and everybody is talking football and about the big game. That just meant everything. Not only football here, but even the basketball and baseball programs here have brought me brothers for life. It's just a family culture and that's what you can't beat."
Coleman will also miss all of his coaches at Belfry.
Philip Haywood and his staff taught Coleman more than just Xs and Os on the football field, they also taught him life lessons.
"Not only were they your coach, but they were another father figure in your life," Coleman said. "Some of these kids who don't have fathers, don't realize how big they (the coaches) are. They do so much. They are so appreciated and people don't really understand how much they do, but they devote their whole life to this program and that just means everything."
Coleman's love from playing safety came early in his career with the Pirates.
"I think it was my eighth-grade year when I decided that's (safety) where I wanted to be," Coleman said. "That man over there, (pointing) coach (Todd) Cassell ripped me every day of my life since then, but he brought me the love of the game and the love for that position. Coming in as a freshman, he told me you can be this or you can be that if you just set your mind to it. Truly he is the one who got me to love playing safety."
Coleman is more than just a football player.
Belfry teaches its players that there's more to life than just football.
And character means a lot on and off the field.
Coleman exemplifies that.
"That's what they teach you, that's not who you really are," Coleman said. "They breed that into you. It's a yessir, no sir, yes ma'am, no ma'am, everywhere you go. You want to be respected more than you want to be known as a winner. That's the ultimate goal in life. You don't want to be know as the guy who ran for 300 yards or whether or not he had 20 tackles. How would that kid to be in your family? How good of a kid is he? Nobody remembers you for your touchdowns. They remember you for how you were off the field."
In the future, he wants to be remembered for being more than just a football player.
"I don't want them to think of me as just a good football player," Coleman said. "I know everybody does, but I want them to think of a kid who they can look up to. You want a kid to want to be like who led his team the right way and did the right things. That's a big thing for me. It's not about football or about being good at it. Does your kids want to be like me? That's what I tried to instill because nobody realizes the impact growing up that a kid here in this program, you thought those kids who played here were NFL superstars when you where out there at tunnel time and things. That's the biggest thing I want is do those young kids look up to me for the right things or not."