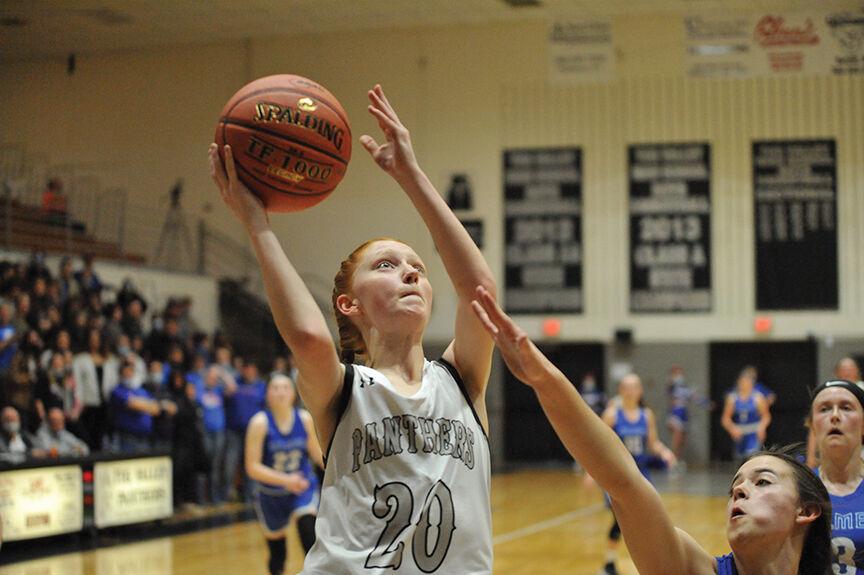 Back when the pandemic first got it's foothold in Mingo County, coaches and players alike were devastated. Especially, kids who were in their junior or senior years.
When the Messenger spoke with Tug Valley's Clyde Farley at the beginning of the outbreak, he summed his feelings up well.
"I think it's the fear of the unknown. It's the fear of not knowing what's going to happen that's scary," Farley said.
First, it was baseball and softball. Then football, volleyball and boys and girls basketball. One by one, they saw their season's cut short or not start at all.
The Tug Valley head Panther knew he had a talented team, and that they could make a play for Charleston.
The Lady Panthers got the season started off right with their first road win as they steamrolled Poca 77-21 on March 4th.
The next night, they welcomed Lawrence County (Ky.) to Naugatuck for their home opener. The Lady Bulldogs left with the win 62-53 giving Tug Valley its first of only two losses.
The Lady Panthers got a shot at revenge the following week, as they traveled to Lawrence County (Ky.) on March 10th. They would get it, defeating the Lady Bulldogs at home 73–71 in overtime.
March 12 Tug Valley made the long trip north to Sherman where they won 57-48 to move to 3-1 on the year.
St. Joe's traveled down to Naugatuck on March 25. The Irish won the game 56-46, but the score doesn't indicate how close the game really was. That was Tug Valley's second and final loss of the season. They sat at 3-2 after the loss to the Irish.
It was after that game, the Lady Panthers said, "Enough".
They would go on to win 12 straight and run the table in Charleston to claim the 2021 Class A state championship.
Tug Valley assistant and (former) Tug Valley boys head coach Edwin May spoke about the team after the regional championship;
"I don't think there is a better starting five in the state than what we got. "If they just play smart and don't get in foul trouble, we've got a chance," May said.
The Lady Panthers would win their next two games by sizable margins. They hit the road to Bradshaw to take on Riverview on March 26 winning 57-45. They remained on the road the next night as they battled Westside, but cruised 59-17.
It was the long awaited Gilmer County game that looked at the end of March that coach Farley had marked on his calendar. Gilmer would be one of the toughest opponents the Lady Panthers saw all year.
However, it was business as usual as Makayla May and Kaylea Baisden both had big games to propel Tug Valley to the win at home 58-50.
"That was a big win for us," Farley said after the win. "We knew Gilmer would be a tough match. But we executed well when we needed to. But this was a big one."
The Lady Panthers would go on to face Gilmer County two more times. The second meeting was in Glenville, and Tug Valley would make the trip home with another win under their belt winning 59-51.
After blowing through the regional at Logan, defeating Van 71-15 in the first round, then trampling Tolsia 50-29, Tug Valley was making the statement that they were the best team in all of Class A.
They would meet Gilmer County one last time, and on the line; the region championship and a trip to Charleston. Farley spoke of how the taboo around beating a team three times didn't play a factor with his team.
"People were talking, getting in their heads about beating a team three times. We just didn't pay any attention to it. We just put it out of our heads," Farley said.
The talk didn't penetrate however, as the Lady Panthers took care of business 65-53 to capture the regional title.
With their ticket punched to Charleston, excitement was building in Naugatuck as Pendleton County awaited Tug Valley for their first round match.
The Lady Panthers dismantled the Lady Wildcats 67-24 with help from Baisden's record setting night of nine three pointer's.
They would face a tough Tucker County squad in the semifinals, but a defensive clinic by May helped propel Tug Valley to a 49-31 win and a date with destiny.
The Lady Panthers felt disrespected throughout the whole season when it came to rankings and seeding. None of that mattered now. They had one quest, to raise that trophy.
Tug Valley did their homework before they faced Cameron for the title. May described how they executed their game plan perfectly.
"We knew they had good shooters, so we knew we couldn't always crash the glass," May said.
The game plan worked out well, as the Tug Valley Lady Panthers captured their first ever Class A state championship defeating Cameron 63-45 in what was just raw emotion after.
Tug Valley had one thing in mind when the season started. Hoisting the trophy on championship Saturday.
Tug Valley proved no doubt that they have the best starting five in the state. They all had their roles.
Baisden, who, averaged 19 points per game had a phenomenal year, led the offense not only in scoring, but as the floor general as well.
May, poured in 15.5 ppg. She was smart in the paint and loved to beat and bang down low. She took beatings most games and made teams pay for it. She is one of four seniors Farley must replace.
Audrey Evans, chipped in 10.7 ppg was another talented shooter and also key on the defensive side of the ball. Turning up the heat on offenses, she caused many turnovers and was deadly behind the arc.
Alyssa Newsome, finishes her career averaging 14.4 ppg, was key in the Lady Panthers success for her ball handling abilities and her deadly knuckleball shot. She also hit two big key shots in the postseason that rallied her team.
Autumn Hall, added almost a double-double every game with 9.9 ppg is a freak of nature when it comes to athletic ability. The ace pitcher for the softball team, she also knows her way around the court. She is a rebounding machine down low, seeming to always be where the ball is. She has a really good jump shot as well, but it's her work on the defensive side that earns her praise.
Coach Farley must replace May, Newsome and fellow seniors Kaitlyn Copley and Brooklyn Farley, however, the stable is far from empty in Naugatuck.
Not only does Baisden return, but Hall, Evans, Haley Gillman, Emily Hatfield, Kristin Fields, Kaydence Gillman and Gabby Hatfield return as well.
Tug Valley will look to return next season in defense of their Class A title. They should finally get the respect they deserve. It will be exciting to see how Class A ends up next season. It will definitely be interesting.