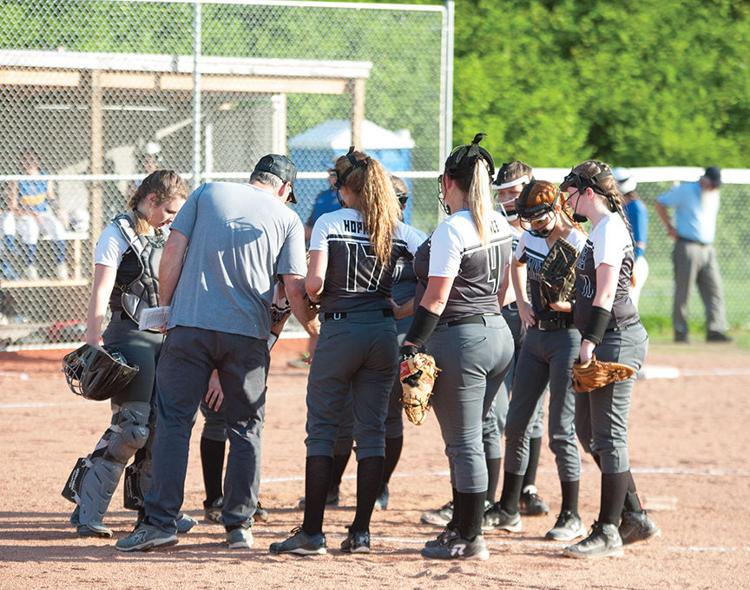 Softball would normally be in full swing of post-season play at this time and for most squads the season would be over.
However, the Tug Valley Lady Panthers have reason to believe that they would be involved in post season play this season after the impressive 22-12 season they had last year and some key improvements over the past offseason.
With a surplus of stars that emerged on the team last season who were supposed to return this season, the Lady Panthers would have been an exciting team to watch this year.
But, with COVID-19 spreading across the nation and the world everything came to a standstill and spring sports were forced to be cancelled.
"We went to Scott to scrimmage them the day before everything got cancelled and it went well with us winning 10-4," said Tug Valley head coach Rocky Hall.
It was the very next day on March 12th that all spring sports in the state of West Virginia were abruptly suspended.
In the following weeks the infection rates of COVID-19 would ramp up and so would the precautions states took to ensure the safety of their inhabitants.
However, Tug Valley did get to have that scrimmage and before that plenty of practices that showcased just how good this team was going to be.
"I'm not joking, we were excited, especially with one of the new young girls Kenna Justice," Hall said. "She was coming up."
Justice would have added to a bullpen that already featured sophomore phenom pitcher Autumn Hall. Hall recorded 327 strikeouts last year.
Having two pitchers who play at the caliber these two ladies can elevates a team's ability to be as versatile as possible.
"Having two pitchers, we weren't going to have to rely on just one person all the time," Hall said. "That makes it so much easier down the stretch. We were so excited, because we really felt like we could make a run at it and don't get me wrong, there is a lot of good competition out there and it would have presented a pretty steep mountain to climb, but we just felt poised to make a serious run."
The Lady Panthers and their head coach have every right to feel confident in their ability in both the offensive and defensive aspects of the game.
"I saw someone who had improved both offensively and defensively, I mean she had come so far defensively and even more so offensively, she did a fair job defensively anyway," Hall added," From the time we finished last year until the time practice started this year she played every chance she got, if anyone wanted to pick up, she played with the AAU Tsunami team and anyone else who needed a player and someone with her speed would have really added another weapon to our team."
Justice wouldn't be the only speedster on the team, though.
"We have Alyssa Newsome who just had a very natural ability to read the ball in the outfield," Hall jokingly added, "I used to tease her all the time and tell her she was the best center fielder in the state of West Virginia."
Though it was a joke between player and coach, Newsome in reality was one of the top outfielders in the state and would have had ample opportunity to prove that status this season.
Last season, Newsome's speed allowed her to track down gap shots and turn them into seemingly easy outs on defense and that speed made her just as dangerous a threat on offense when she was able to get on base.
"My thing on this team, I felt they were special last year, and don't get me wrong, it hurts losing a senior like Caylee Akers, but we were excited to have this special group of girls," Hall added. "Everyone likes each other, they all get along, they have fun and come game time they get serious and handle business."
Another player Hall raved about was Emily Hatfield.
Hatfield was the catcher for the Lady Panthers last season and when stepping up too the plate, was always a threat to send the ball into the next zip code.
"I mean good night, you want to talk about phenomenal foot speed and bat speed, you should have seen how much she improved coming into this year," Hall added. "If we were doing front toss batting practice, out of a bucket of balls she would smack eight or 10 out into the back side of the parking lot."
Though Hall and his team were tremendously excited for this coming season as stated earlier that won't be the case with the current situation of the world and the on going pandemic.
"Don't get me wrong not having the season really hurts, especially knowing how good we could have been, but this thing is bigger than softball and bigger than us and we have taken that in stride but, it really is tough especially knowing how hard these girls have worked to be where they are," Hall said.
Adding to the current situation is the question of what the cancellation of spring sports does to current seniors and what this means for them and their final season of high school sports.
"We have two seniors that would have been starters this year with Abigail Spence and Courtney Wellman and that's one of the hardest things because those girls were so pumped for this year," Hall added. "Courtney said that if she gets the option like they gave college athletes, then she is definitely returning to school next year and will play if allowed."
The Tug Valley Lady Panthers return the whole roster next season except two seniors. If West Virginia allows seniors to return for a final season, the Lady Panthers will return their entire roster.
"Like I said I understand that this COVID virus is bigger than us, but it is like you're about to roll out this new automobile to the car show and then the show gets called off," stated Hall.
And though the show was cancelled it's easy to assume that the girls on the team had developed a love for the sport and will continually improve with next season as the target date to show off for the Tug Valley faithful.
"The thing with this team is even though things have been cancelled these girls are still at home doing things to get better every day and we would love to have a shot at an abbreviated season or something, but right now, we know that this pandemic is bigger than us and all we can do is pray for our country and our people as a whole that they make it through this and we are better for it as a whole (the world)," Hall added. "I think that our kids aren't bitter about this and they want to play, but they know the seriousness of the situation and understand this is just something that has to be done and they understand that softball is just a vessel. It can bring families close together and our girls don't take it for granted.
"I work with my own girls everyday on things for softball. They love the sport, but when I'm working with them, we talk about God, work ethics, morals and things like that."
It is these principals and values that Hall also extends to his team and has lead them to not take the sports they love so much for granted, building upon their progression and now because of the current situation of the world see the head coaches philosophy ring true.
Next season will present a Tug Valley team that is ready to seize the opportunity and is looking to make a deep playoff push.