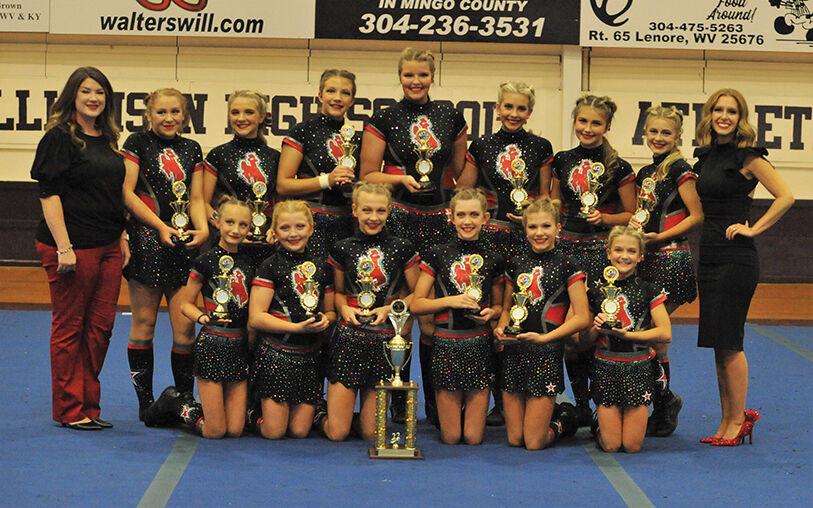 WILLIAMSON – Tara Mitchell Wolford and Tug Valley High School might have been the real winners last Thursday, Nov. 10, during the Mingo County Middle School cheerleading championships.
Mitchell Wolford, the Tug Valley High School cheerleading coach, had to like what transpired as Tug's two feeder schools, Lenore and Kermit, finished one-two in the county cheer competition.
It was Lenore Middle School which came out on top, winning the county championship for the third straight year with a score of 75.75, besting the rival Kermit Middle School Blue Devils, which were second with a 60.755.
Gilbert Middle School took third place with a score of 58.565. Host Williamson Middle School was fourth place with a 45.51. Matewan Middle School also competed. Burch Middle School's cheerleaders were present but did not compete.
Williamson also won the Sportsmanship Award.
Lenore cheer coach Anna Moore said she was thrilled with her team's performance in winning the crown and it was a reward for months of hard work.
"It's a great relief," Moore said. "It's been a lot of hard work and a lot of hours with sweat and tears. We're just tickled to death to get the trophy that we've been working for."
Lenore's gymnastics and tumbling and level of difficulty in its routine seemed to be the difference in the judge's scoring tally.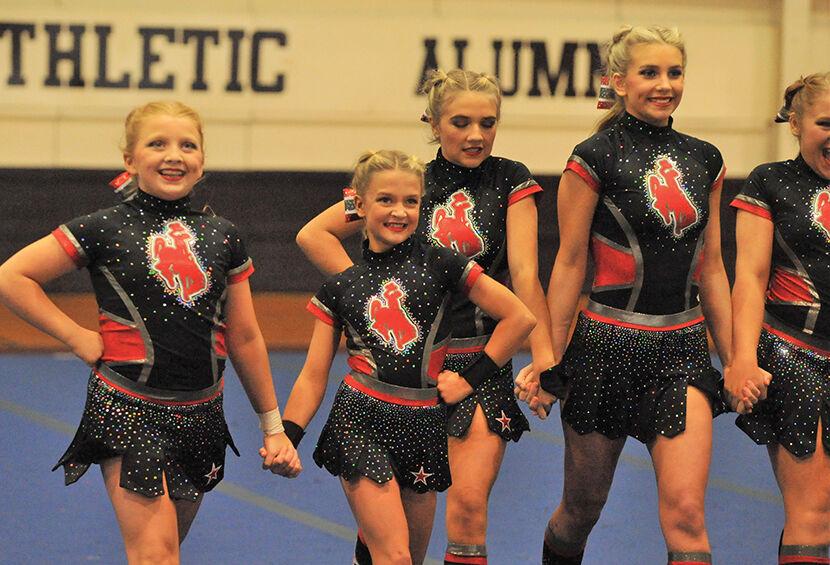 "We have a lot of great tumblers on our team," Moore said. "They work very hard. They are always wanting to push themselves, improve and be competitors."
Lenore's routine was nearly flawless with few deductions from the judges.
"We didn't have many (deductions)," Moore said. "We had one very small deduction on a little bobble and that was it. I'm very pleased with them."
Ultimately, the Lenore and Kermit cheerleaders will be moving up to the high school level and that's good news for Tug Valley and Mitchell Wolford.
TVHS will be gunning for a second straight Class A state championship on Dec. 10 at the Cam Henderson Center on the campus of Marshall University in Huntington. Tug won the Class A Region IV title a couple of weekends ago in Parkersburg.
Tug Valley will be gunning for its fifth state title over the last six years. TVHS has won eight state crowns since 2005.
"Absolutely, they know what's in their future," Moore said. "They still know that they have got to work and they will be looking for that state title someday at the high school level."
Lenore is assisted by Ashley Browning.
Lenore team members include: eighth-graders Jolie Baisden, Lakin Copley, Payton Moore, Megan Pack, Riley Porter and Gracie Smith; seventh-graders Paisley Bolyard, Maci Marcum, Jayleena Meade and Rylee Vickers; and sixth-graders Mady Brinager, Kenadie Bryant and Karli Clevenger.
Kermit is coached by Allison Siggers and Kayla Gillman.
Kermit team members include: eighth-graders Maddie Messer, Alexis Messer, Bella Robinson and Alexa Perry; seventh-graders Karlee Gillman, Lily Mounts, Jasmine Bradley, Arionna Brewer, Maddie Sturgell and alternate Alana Muncy; and sixth-graders Haylen Howell and Kensley Stewart.
Gilbert is coached by Gini Ellis and Erica Rawls.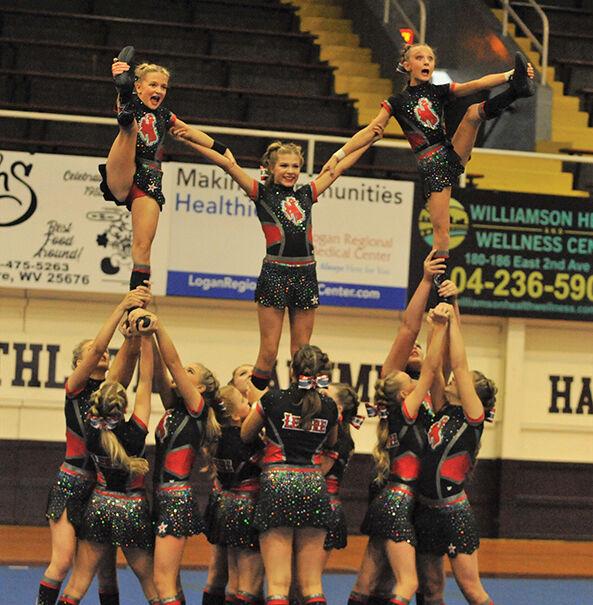 The Gilbert roster is made up of: Jayden Bailey, Ciara Brown, Lacey Cline, Journey Dotson, Kyle Dotson, Hannah Ellis, Alisha Mitchem, Eva Munroe, Katie New and Jayden Toler.
The Williamson cheer team is coached by Ashley Willis and assisted by Stephanie Fabin.
WMS team members include: Destiny Casey, Aubree Williamson, Cheyenne Meadows, Kiarra Savage, Elyssia Wilkerson, Isabella May, Karlee Sturgeon, Ava Bucci, Nora Stepp, Jazzyln Judkins and MaKayla Phillips.
Matewan is coached by Nicole Daniels and assisted by Rebecca Keatley.
The Matewan cheer squad is composed of: LaShawna Hackney, Madison Daniels, Makenzie Wolford, Karena Akers, Cassidy Keatley and Josslyn Blankenship.