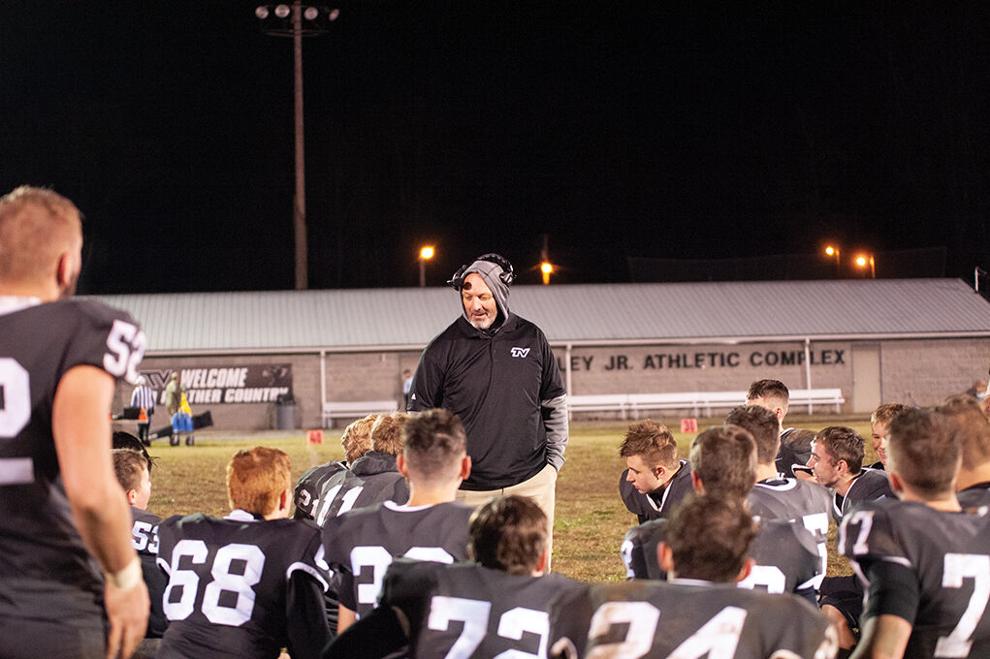 Hady Ford's Tug Valley football Panthers failed to qualify for the 2021 playoffs, but they did finish out the season on a strong note, scoring a 41-20 win over the visiting Van Bulldogs to cap off their season at an overall record of 4-6.
Most of the first half was a defensive battle. There weren't points from either team until 5:36 left in the second quarter, when Shaun Booth scored on a one yard TD run for Van. The two-point try succeeded, and the Bulldogs jumped out to an 8-0 lead.
On the next Tug Valley drive, quarterback Elijah Fluty gave the ball right back to the Bulldogs. Brady Green picked off Fluty and returned it down to the Panthers' nine yard line.
A penalty took Van back to the 20, but it would prove meaningless as Byron Stewart found paydirt on a run from 16 yards out with 2:24 left in the first half. The two-point conversion was no good, and the Bulldogs increased their lead to two TDs.
Tug Valley cut the lead in half on the very next kickoff. Tanner Urconis returned it to the house for a TD and the score was 14-7 Van after a successful Caleb Totten point after try (PAT) with 2:14 left before halftime.
Van looked to increase their advantage before halftime, but it was the Panthers that came up with the huge play right before intermission.
Ashton Davis picked off a Bulldogs pass and returned it 35 yards for a TD with 11 seconds left in the second quarter.
The Panthers were lined up to kick the extra-point, but Fluty, who was the holder, recovered a bad snap and then rolled out to his left and threw a pass on the run to Urconis who caught the ball and got into the endzone for a successful two-point conversion. Tug Valley led 15-14 going into the break.
The score stayed that way for most of the third quarter, but Tanner "Boo Boo" Kirk was determined to change that.
He recovered a Van fumble at the Bulldogs 35-yard line with 2:22 left in the frame. Then, two plays later, he took a carry and dashed all the way to the house. Totten's PAT split the uprights, and the Panthers upped their lead to 22-14 with 1:21 left in the period.
Kirk wasn't done making plays on his feet. He tacked on another TD with 10:02 left on a 20 yard run. The PAT was good again, and the Tug Valley lead got larger at 29-14.
Van attempted a comeback, and they regained a little bit of hope courtesy of a 11 yard TD pass from Booth to Jax McCarty to cut the Panthers' lead to 29-20 with 6:29 left in the game. However, Tug Valley's Riley Damron made a huge stop on the two-point conversion to keep it a two possession game at 29-20.
The Bulldogs couldn't stop the Panthers from scoring on their next drive. Tug Valley made it much harder on them as Dakota Ooten made a ridiculous catch in double coverage and then Kirk ran a carry down to the Van eight yard line. That's when Fluty kept the ball for an eight yard score with 5:03 left in the game. The PAT was blocked, but the advantage for the Panthers now stood at 35-20.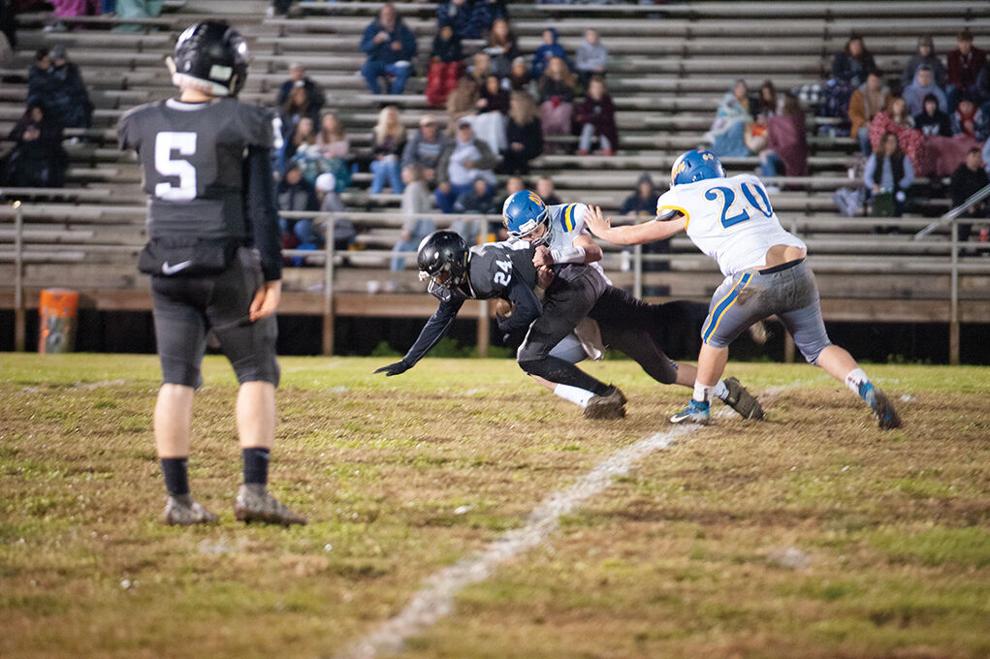 Kirk wanted his playing career at Tug Valley to end with a bang, and it did. He added another TD run from inside the 10 yard line with 2:33 left in the game. Totten's PAT was good, and the score swelled to 42-20 in favor of the Panthers. That's how the game and their season ended.
This was the last game for Tug Valley's departing seniors, and Ford was happy that they got to finish their careers on a positive note.
"You don't have the playoffs to go for, so finishing your career with a win is something that you want to do," said Ford. "That's one of the moments that you're not going to forget for the rest of your life. Being able to have a victory in that moment is definitely something that's going to be able to carry with them."
It can be tough for seniors of any team, no matter the sport, to take off the gear for the last time, but Ford says that playing Tug Valley football has meant a lot to the kids that have shed blood, sweat and tears for four years in a Panther uniform.
"I think these guys have loved it," said Ford. "There's a couple of them, Kyle (Hodge), this is his second year and I didn't know if he could be able to really play football, but he became a good football player this year. And ECole (Ethan Colegrove), just from the time he was a sophomore to when he was a senior, he just turned it around and became a player. Boo Boo (Tanner Kirk) was a receiver as a sophomore and as a senior he was a running back and he showed what he can really do."
Tug Valley got off to an 0-3 start on this 2021 season, but they proceeded to win four out of their next seven games after that rough stretch to begin the season. Ford hopes that the heart and fight his players showed in not giving up despite the rough start lays a strong foundation going into next year.
"We're playing a lot of young guys so, the last two games we've played two good football teams," said Ford. "With that being said, last week we played Man and we didn't play good in the first half and we really played hard in the second half. It kind of showed what we could do. We didn't play so good in the first half here, but again, we showed that heart and what we can do. A lot of those younger guys, number one, that's a good taste in their mouth going into the offseason and, number two, it shows the potential that you have that we can be a really good football team next year if we quit making the mental mistakes and play some football."
This season, Fluty was the leading passer for the Panthers with 715 yards, eight TDs and nine interceptions on 59-122 passing. He also ran the ball 75 times for 285 yards and five scores.
Tanner Kirk had a season to remember for Tug Valley. He crossed the 1,000 yard mark in rushing, going for 1,100 yards and 10 scores on 159 carries. Behind him was Buddy Marcum, who turned 42 carries into 348 yards and four TD's. Austin Smith ran 13 times for 62 yards and a TD, while Adam Slone gained 86 yards and scored 5 TDs on 22 carries on the season.
Tanner Urconis was the leading receiver for Tug Valley in 2021 with 17 catches, 277 yards receiving and four scores. Dakota Ooten followed him with 161 yards, 11 catches and a TD. Ethan Colegrove caught two TD passes on six catches and 85 yards, while Riley Burton was the other Panther to have a TD reception with three catches and 53 yards on the campaign.
Kirk also led the Panthers in tackling on the season with 58 stops and three sacks and six TFL. Adam Slone added 51 tackles with two sacks and seven TFL. Dakota Ooten had 49 tackles, Ethan Colegrove had 42 of them with four sacks and 15 TFL, and Ashton Davis added 29 stops and six TFL. Urconis had 25 tackles with two TFL on the season, and Brady Brewer also had 25 of them with one TFL. Kyle Hodge had 24 tackles with a sack to go along with 9 TFL, Dakoda Walker had 22 tackles and two TFL, and Austin Smith and Jonathan Wagoner both had 19 stops. Burton also contributed on the year with 16 tackles, as did Fluty with 14 and Marcum and Brayden Dotson with 10 each.