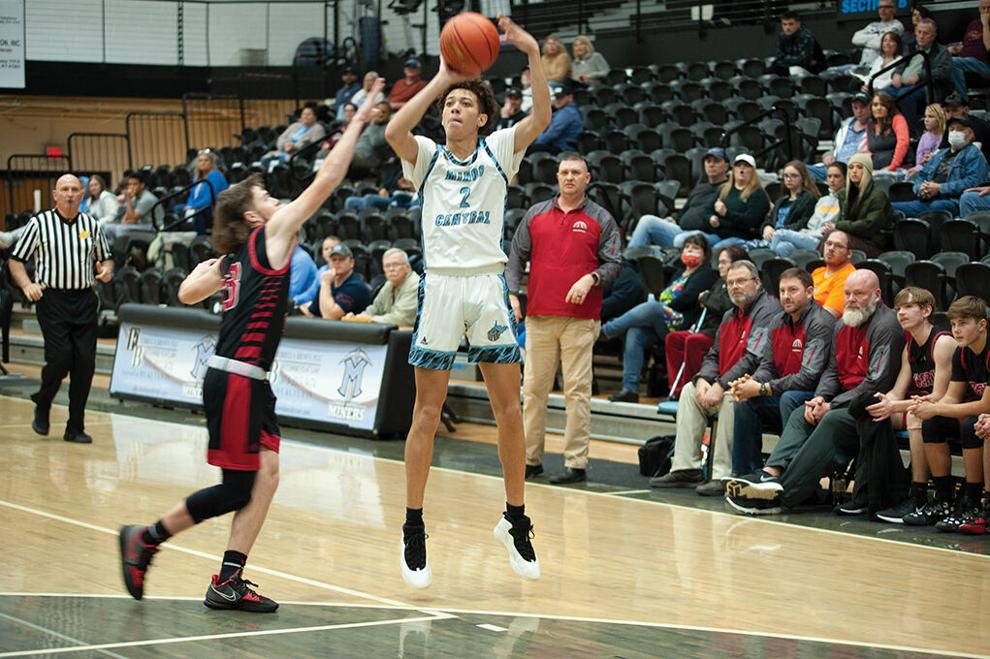 The Mingo Central Miners improved to 2-1 on the season on Saturday afternoon as they hosted Liberty Raleigh and won by a final score of 67-50.
The Miners led the game 14-8 after one quarter and were aided by five points from Jarius Jackson as well as four points from Matt Hatfield.
Mingo Central led by as many as 10 points in the second quarter, but Liberty Raleigh went on a 7-0 run and cut the lead to 18-15 forcing head coach Stan Elkins to call a timeout with 5:40 left before halftime.
The two teams traded buckets for most of the period, but it was the Miners who had the advantage at the intermission as they led 35-27.
Preston Smith scored at will in the quarter with 11 points. Jacob Cline also had four points in the frame.
Mingo Central started to pull away from the Raiders in the third quarter. Up 40-32 midway through the period, the Miners went on an 8-0 run to gain their biggest lead of the game at 16 points at 48-32 at the end of the quarter.
Smith again led the Miners in the third frame with six points while Hatfield scored four.
The Miners held Liberty Raleigh at bay in the fourth quarter and cruised to a 67-50 victory over the Raiders.
Smith led Mingo Central in the scoring department with 21 points to go along with his three rebounds, two assists and a steal. Jackson also broke double-digits with 17 points of his own and two boards.
Cline added eight points as well as three rebounds and two steals to the scoresheet, and Hatfield also scored eight points with four rebounds, two assists and a steal.
Despite the win, Elkins feels like his team is capable of better performances.
"A win is a win and we'll take them any way we can get them," said Elkins. "We talked about things we had to do. As a matter of fact, we drew them up on the board here. We talked about coming out and playing with a lot of energy. We had to win the 50-50 balls and we had to out rebound (them). They outplayed us in the first half even though we had the lead, I felt like we should have been up about 20 in the first half. You have to come out and play with energy. We think that the 50-50 balls and the rebounding are things that we have to win in order to win the game."
Elkins feels like his team has work to do after this win.
"I know that the kids are ecstatic for the win, but as a coach, we sit there and critique it as we play and we want to play the right way and try to incorporate things that we talk about in practice and we're just not there yet," said Elkins. "We're still in the process of learning and learning how to play with each other."
"I thought Preston Smith played a great game. He played with a lot of energy. Jarius got in foul trouble and we had to sit him. We can't beat the better teams without Jarius on the floor. He's very important for us. He's still trying to find his way as well. In the last quarter, he showed some things that I think he can do."
The Miners will head into the Christmas break with a record of 2-1, and they will return to action on December 30 for a home game against defending Class A state champion Man. Tipoff is set for 7:30 p.m. from Miner Mountain.