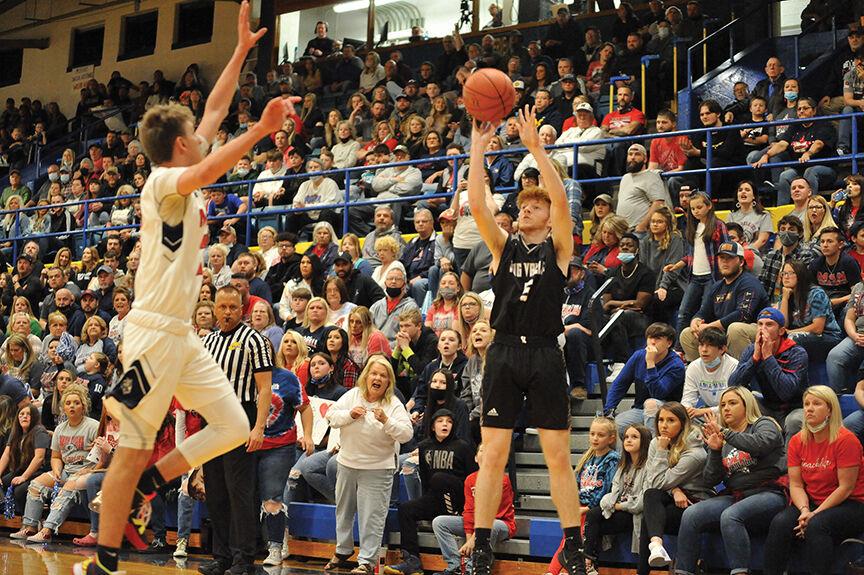 The Tug Valley Panthers quest for a state title may have ended in the semifinals against Pendleton County, but the Panthers made a statement this season. 'We're back."
The Panthers finished the season 14-4 losing a heartbreaker to Pendleton County 38-35 in the Class A state semifinals in Charleston.
Tug Valley got off to a great start to begin the season. For their season opener they traveled to Charmco to face off with Greenbrier West. The Panthers squeaked out a victory 75-73 for their first win of the season. Their second game on March 9th was against cross-county-rival Mingo Central in the "Battle of Bloody Mingo." Tug Valley won the first meeting 62-59 in what was probably the Miner's best game all season. Tug Valley won their first five games, including wins over Van 102-32, beating Tolsia 87-72 and Greenbrier West once again in Naugatuck 80-69.
The Panthers first loss came at the hands of the Man Hillbillies. The eventual Class A state champ thumped Tug Valley at home on March 24th 85-56. Hillbilly star Austin Ball had a huge game scoring 21 points and 17 rebounds. He was a perfect 4-for-4 from the line and also finished with six assists.
That led to a two-game skid for the Panthers, as they also dropped their next game to an always tough WestSide team at Clear Fork. They lost by 10, 74-64 to drop to 5-2 on the year. They bounced back however, walking over Van 80-28 in their next outing. The win over Van led to a nine game winning streak.
The Panthers cruised over their next two opponents, beating Sherman 97-52 on the road and whipping Greater Beckley Christian 87-59 at home.
The Panthers swept the "Battle of Bloody Mingo" series on April 6th defeating Mingo Central 61-42. Tug Valley got an opportunity to return the favor to WestSide on April 9th. Return the favor they did, beating the Renegades 78-68 in Naugatuck.
Tug Valley went into the sectional with all the momentum. They handled Tolsia in the first round 74-46. They would once again face eventual champ Man once again. This time, with the sectional title on the line. In what will be remembered for generations as, "The shot heard 'Round West Virginia," Joby Sorrell lifted the Panthers over the Hillbillies 53-50 on his last second buzzer-beating three pointer.
Coach Garland "Rabbit" Thompson, who, is no stranger to nail biters like this, said after the Man win;
"Man, is probably the best team in the state. They are very, very good. You gotta[sic] give hat's off to Man. They were ready to play," Thompson said.
Tug Valley was scheduled to play Gilmer County next, but the Titans opted not to play due to COVID-19 concerns.
With that, the Panthers were off to Charleston.
The Panthers squared off with Cameron in their first round game. They easily handled the Dragons 69-55. It was shaping up for a Man vs. Tug Valley final.
Tug Valley had one hurdle to get passed, and that was Pendleton County. The Wildcats came looking for an upset, and they got one, shocking the Panthers 38-35 to end the Panthers season.
Tug Valley was led by senior guard Caleb May. As one of the only players in West Virginia history to make all-state first team's in football and basketball, May sliced and diced his way through defenses all season. May averaged 26.5 points per game this season. Coach Thompson will have a task finding a replacement for his offensive power.
Ethan Colegrove also played a huge role for the Panthers this season. The 6-foot-4 junior averaged 15.4 ppg and was close to averaging a double-double. A bright note for Panther Nation, Colegrove will return for his senior campaign as they try to return to Charleston.
Easton Davis was also crucial this season. Along with Colegrove, the "Twin Towers" created havoc in the paint this year. Davis was third on the team in scoring, averaging 13.3 per outing. He will also leave to graduation so that's another hole Thompson must fill.
Ian Reed was another player who stepped up big as the season progressed. Hitting big shots at times the Panthers had to have them, built trust among him and his teammates. Reed averaged 11.2 ppg and hit two major shots in the postseason that ignited the Panthers.
Justin Hall is another senior who will leave a void after graduation. Hall averaged 7.9 ppg this season and will be sorely missed.
Then, there's Joby Sorrell. What more is there to say? The shot. It will go down in Tug Valley lore, how he rose off the floor three inches higher to hit the shot to beat Man in the sectional championship. The senior was deadly from outside, and as mentioned prior, hit the buzzer beater over the Hillbillies.
The Panthers will have to replace five seniors, but, there is a lot of experience coming back and a lot of talent coming in from the middle school ranks. Look for the Panthers to be back on the big stage again next season.