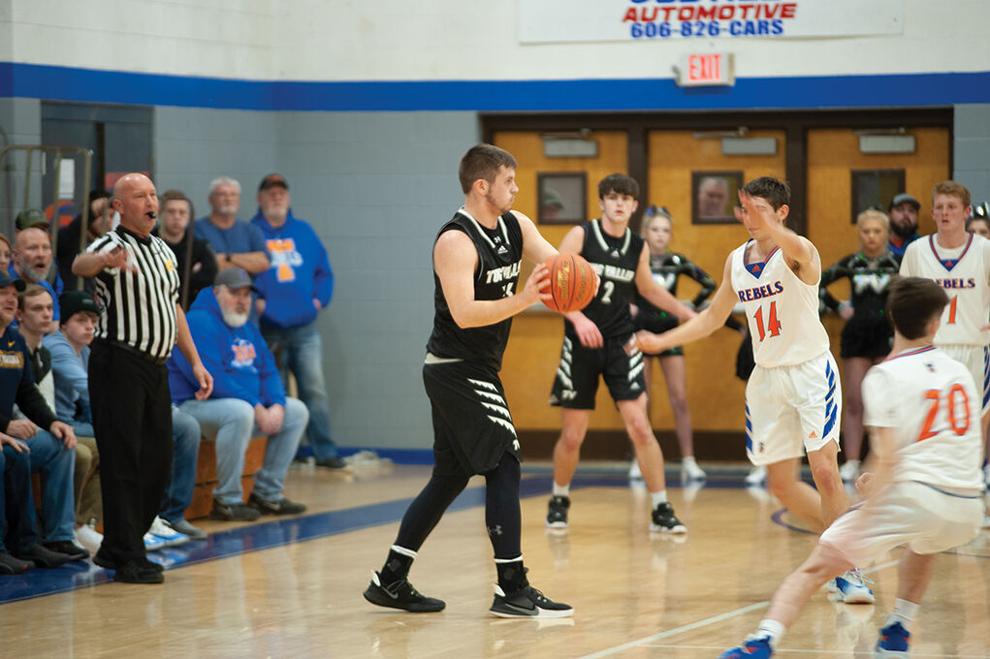 Up 25 points in the third quarter and having dominated the game up to that point, the Tug Valley Panthers watched the Tolsia Rebels pull to within five points late in the game, but coach Garland "Rabbit" Thompson's team held on to get a 60-52 win at Rebel Arena on Tuesday night.
The Panthers started fast out of the gate, jumping out to a 9-0 lead. They heavily controlled the first quarter of play and led 19-7 going into the second frame.
Freshman Joey Gollihue was on fire in the first quarter scoring 10 points.
The second quarter was once again all Tug Valley. They led 31-13 at halftime. Another freshman in Brady Brewer led the Panthers in scoring in the second period with six tallies.
The third quarter saw Tug Valley run further away from the Rebels. They led by as many as 25 points at 43-18 and their advantage was 48-24 at the end of the period.
Ethan Colegrove led the Panthers with eight points in the frame. Gollihue had six points along with a buzzer beating three to end the quarter.
The Panthers of Tug Valley thought they were going to cruise to an easy win, but Tolsia had something else in mind.
Down 49-24 early in the quarter, the Rebels went on an 8-0 run to make it a 49-32 ballgame, forcing Thompson to call a timeout with 6:20 left in the contest.
Back-to-back layups by Colegrove, however, pushed the Panthers lead back up to 21 at 53-32.
They weren't out of the woods yet, though. Tolsia went on a 16-0 run fueled by suffocating and swarming defense, the Panthers throwing the ball away several times and a wild home crowd and they cut the Tug Valley lead to 53-48 late in the game.
However, it was at that moment that the Rebels made a critical mistake.
Their head coach received a technical foul which allowed Gollihue to nail two technical foul shots and put Tug Valley in front by seven at 55-48.
Gollihue came through in the clutch for his team another time. He hit a layup and was fouled in the process with 44.3 seconds left in the game and he made the free throw to give the Panthers three more monstrous points and a 58-49 lead.
That put the game on ice as Tug Valley escaped Glenhayes with a 60-52 victory.
In his first game back from injury, Gollihue's impact was felt in a big way. The heralded freshman finished with 22 points, four rebounds, two assists and a steal and scored key points in the final two minutes of the game to help his team avoid a collapse.
He felt good about that afterward.
"It does feel great," said Gollihue. "I didn't play the best, but we still pulled it out as a team. The only thing I can do from here on out is play every game my hardest and show them that I may be young, but I'm here. I had a couple of messy turnovers and I didn't shoot the ball well, but I do feel like I stepped up some. It feels amazing."
After a near mishap if there ever was one, Thompson was relieved that his team survived the scare from Tolsia.
"We almost snatched defeat from the jaws of victory," said Thompson. "We started throwing the ball everywhere. Freshmen played like freshmen for a while, but you have to give them credit. It's a tough place to play. You have to give Tolsia credit. They didn't quit. I said they wouldn't. I don't care what their record says, when Tolsia and Tug Valley play it's going to be a battle. I thought Joey stepped up and played very well. I thought Brady did OK. He rebounded the ball and had eight or nine. Ethan was Ethan. He gets us out of trouble and bails us out a little bit. I'll take it."
Going forward, Thompson wants to see how his team responds when things aren't going their way in a game.
"When things are going good, everybody's happy," said Thompson. "The first time adversity hits and all of a sudden you're not winning by 20 and it's down to five, then you have to have a little intestinal fortitude. I'm a little disappointed with how we played the fourth quarter. It seems like we made a lot of foul shots. They played a little 1-3-1 and kids would get trapped or they'd pick up their dribble and sometimes you have to flash to the ball a little bit. They got some layups and runouts. The crowd got into it and it is what it is, but Tolsia and Tug Valley is a natural rivalry and will be when I'm not here."
Thompson praised his freshmen for how they played on this night.
"Joey is a good one," said Thompson. "I thought the other two weren't too bad too, all three starting freshmen were good. Joey's handle has to get a little bit tighter. His shot has to get a little better and he's got to be a little more intense defensively, but he's a good one. I've said before that he's a good one. I don't know where in the world we'd be tonight without him. I'm glad he's got that Tug Valley jersey on."
Panthers star forward Parker Davis missed the game due to a knee injury, and the severity of it is unclear according to Thompson.
"He goes for an MRI, so I'm praying for the best," said Thompson. "I'm praying for the best for the kid. Hopefully it's just a sprained knee and I hope it's nothing more serious than that. He hasn't practiced since we played. He went to the doctor and they're going to do an MRI."
Another thing Thompson wants to see is his players taking the lessons learned from this game and put them to good use in the coming weeks.
"I think they'll learn from it a little bit," said Thompson. "They just have to go through the fights, fires, wars and battles and try to get a little bit better every day. Again, we did a lot of good things for three quarters and we were very good, and then in the fourth quarter we saw the ugly. We want to iron some things out. I'm still trying to process what it is. If you said we'd be 4-0 before Christmas I'd say I'll take it. I wasn't worried that we were going to lose the game, I was just upset with the way we played. Again, the crowd gets involved. Once the momentum goes to the other side it's very difficult to get back. We did just enough to pull one out."
Tug Valley's next game will be after the Christmas break when they travel to Williamstown for a road contest on December 29. Tipoff is scheduled for 7:30 p.m.