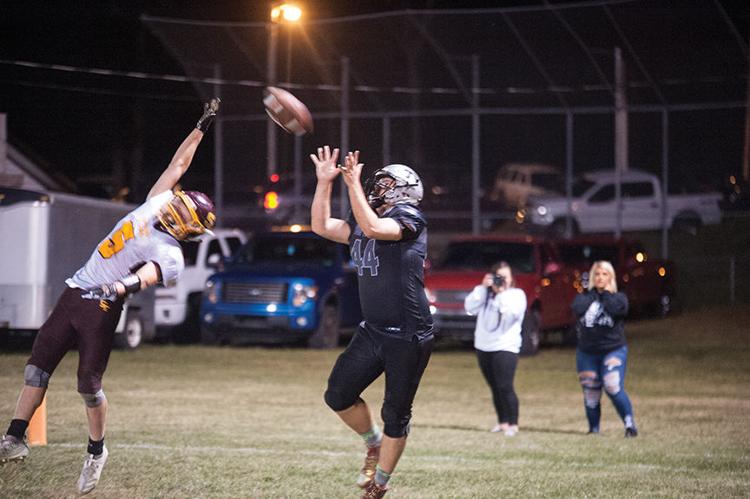 A lot of people in the Mingo County area know who Ethan Colegrove is.
They know his basketball accolades with him being named to the All-State team and the Appalachian Newspapers Inc. All-Mountain Team.
The people who saw him play witnessed him be one of the more dominant and versatile big men in the state on the hardwood.
However, if you didn't pay much attention to Tug Valley's past football season, then you may have missed a potential breakout star.
Colegrove played his very first high school football season last year and turned quite a few heads with his natural ability on the field.
That may raise a few questions like how did Colegrove go this long without playing a sport he was this talented at?
How has he improved from last season to this one?
But, those are just a few.
"Honestly, I've always liked football and even played in middle school for two years before deciding to focus on basketball," Colegrove said. "In the past when people approached me about playing, they talked about what a big body I would be and made me feel like I was pretty much going to just be a blocker and a big body; I viewed myself different."
Colegrove's path back to football wasn't about him not believing in his own abilities.
It was about what others weren't seeing in him that he saw in himself.
That changed when Hady Ford took the helm last season in his first year as the Panthers head coach.
"Like I said earlier, all everyone kept telling me how big of a body I was and how good a blocker I'd be, but it was different when he (Coach Ford) talked to me about playing," Colegrove said. "Ford had all these different ways he wanted to use me and all these different ways he thought I could help the team with my size, speed, and how agile I was for a big guy and it got me excited to be a part of what he wanted to build."
Ford backed up everything he said to the young Colegrove.
Playing him on both offense and defense in multiple spots  he found unique ways to reintroduce Colegrove back to the sport in order to help him find himself within the game, so he could grow comfortable moving into the future.
Ford played Colegrove at a tight end hybrid position on offense and even let him split out wide in some formations and using him in jump ball situations in the red zone.
On defense, Ford had Colegrove all over the defensive line; seemingly playing him at almost every position in the DL rotation; making it hard for teams to account for him since he was hardly ever in the same spot.
But, how will Colegrove show improvement going into this season?
"Since they shut basketball down and our squad didn't get to go to the state tourney, I've been working on getting faster, even getting my 40-yard dash down three tenths of a second to a 4.9," Colegrove said. "My deadlift went up almost 100 pounds and I got strong with benching and everything."
This is exciting because Colegrove is now set to make a much bigger impact after having last season under his belt and having a full offseason of work that he has put in at home however he could.
"If there is a defensive lineman award, I think I'd like to shoot for that, but really I just want to show people what I'm really capable of," Colegrove stated. "As a team, we know we can win and I think we are eager to show everyone that we are building off the success we had this past season. "
This season is already posing its own abnormalities however, with the world dealing with the ongoing pandemic (COVID-19).
Colegrove thinks the Panthers are handling the new guidelines just fine and is excited for phase three to begin and for practices to get back what a normal football practice is like.
"The guidelines haven't changed much for us just because we needed to focus on condition and stuff like that, especially with how fast paced we are," Colegrove said. "Once we get back to as normal we can get, we can really focus on all the technical stuff and maybe even have a leg up on some people because of the time we already spent on conditioning. Conditioning is no longer something we have to worry about and we can focus more on running plays and the X's and O's."
When the season begins Panther fans will need to keep a close eye on Colegrove because he is poised to be one of the more versatile "big bodies" in the state.
However, it will become apparent that Colegrove is much more than just a "big body".