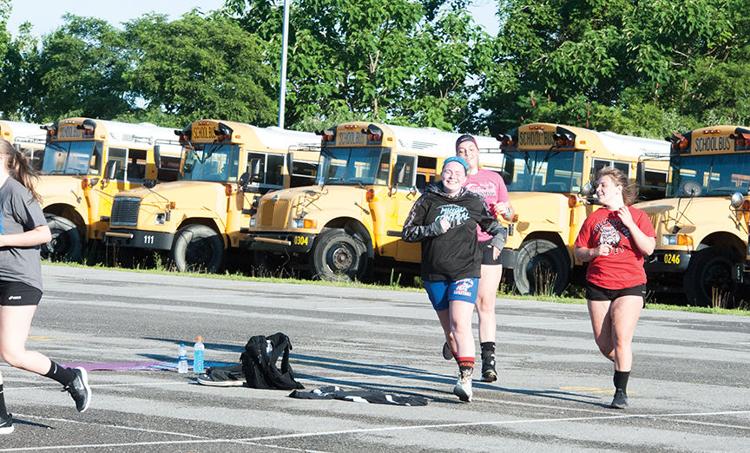 West Virginia has entered Phase II of its plan to get back sports into the mountains.
Atop Miner Mountain, the Mingo Central volleyball team and head coach Amanda Lovern have been putting in the work in accordance with the guidelines set by the state in its two-phase plan.
"These are unusual circumstances, which is not something anyone has dealt with in the past, but our main focus is the health and safety of the kids," Lovern said. "One of the biggest positives is the social interaction between them because the kids haven't seen each other since our last day of school which was in March and I can tell from one of the first days we met how their faces lit up from getting to see each other."
Though the girls get to see each other the guidelines encourage students and coaches to maintain social distancing parameters (six-feel apart) through out the hour-long practices.
"It's really weird because we are used to being really close to together and goofing off with each other during practice, but now we have to be however far apart and we are outside, which also isn't very fun because its hot," senior hitter Bella Grace jokingly stated.
Eventually the state will allow teams to get back to sport specific training and will even get closer to "being normal" as it can.
"Like I said this is just different. Like right now we are out in the parking lot and normally we are in the gym, so I'll just be happy when we can get back to the normalcy we are used to," Lovern said. "I'm just excited to get back in and start running drills, serving, passing, hitting, setting and working on a lot of strategic things and I know they're ready as well."
Normally this would be the focus for Lovern and her squad during a normal three-week period, but this isn't a normal three-week period.
In fact, these circumstances are well beyond abnormal.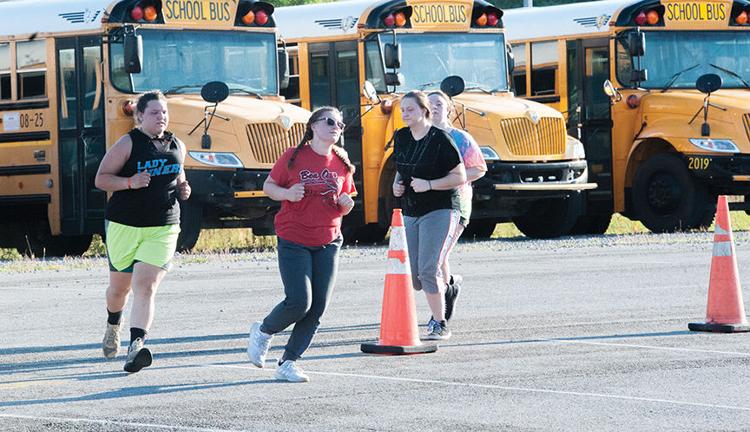 However, the Lady Miners have focused on getting conditioning and strength training checked off the list so that when they return to the court it can be all about business and getting ahead of the curve when practices return to full go.
"Right now we run for like five or six minuets then we come back and do our planks and leg raises and then we run some more," said senior hitter Cassady Runyon.
Both Grace and Runyon also play softball, which would normally be something that helps athletes, especially multi-sport athletes, stay in shape.
COVID-19 denied these ladies and many more across the country the chance to play softball this season.
"Playing softball definitely helped," said Runyon. "It made it a lot easier going from one sport to the other because after softball the conditioning for volleyball wasn't as hard."
The distance COVID-19 put between athletes and their sports is truly saddening and the humbled looks on the athletes says it all.
They are ready to be back.
Not only that, but for the Lady Miners it will be taking advantage of every opportunity that is laid before them as look to improve from last season.
"I'm excited to play games because, last year we had a really good season compared to the ones we have had before and I'm excited to see what we can do this year," said Grace.