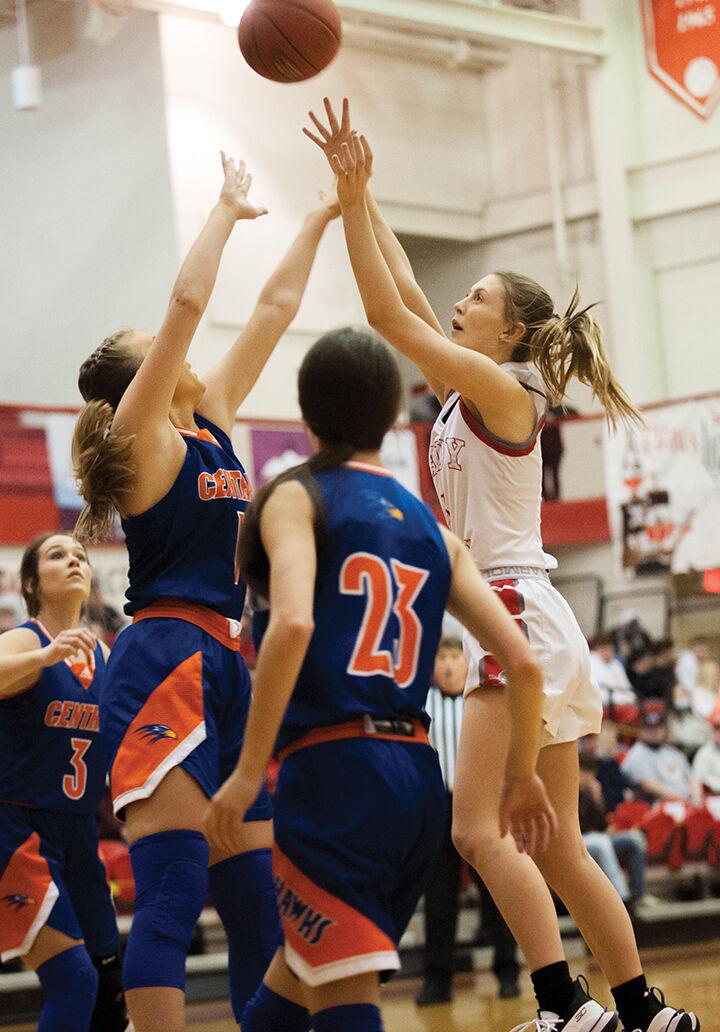 GOODY —  A lot of things needed to happen for Pike Central to go into Belfry and leave with an upset win.
None of those things happened for the Lady Hawks Tuesday night.
Defense and hot-shooting. Belfry was clicking on all cylinders and rolled to a 70-27 win over the Lady Hawks improving Belfry to 3-0 in the 60th District and earning the No. 1 seed for the 60th District Tournament.
Belfry never trailed in the game. Leading 13-9 in the first quarter, the Lady Pirates used a 12-0 in the final three minutes of the quarter to take a 25-11 lead.
Pike Central struggled with Belfry's defensive pressure all game. Pike Central coach Denise Campbell noted that the Lady Pirates put on an exhibition of how to press.
"Their feet never stop moving," Campbell said. "The press got to us when we played them earlier and it was the same tonight. Belfry is quick and they are physical. The way they play, that is what we are working to develop; it is just going to take time to get there. But hats off to Belfry, they played tough and shot lights out. Coach (Kevin) Deskins is doing a great job here."
Lights out is exactly how Belfry shot, the Lady Pirates hit 10-treys in the first half. Belfry continued to pour it on in the second quarter. Belfry closed the half on a 15-2 run to take a 52-17 halftime lead. The final 10 points of the run was scored by Belfry's Cushi Fletcher.
Fletcher scored 21 first half points and 25 for the game to lead the Lady Pirates. Monday night, Belfry knocked off Lawrence County and Fletcher scored nine points in the fourth quarter of that contest. Belfry coach Kevin Deskins is glad to see confidence coming back to his junior playmaker.
"I'm really happy for Cushi (Fletcher)," Deskins said. "She is a big part of what we do here. She struggled a little early in the season, I think she put a little too much pressure on herself but we all know what she is capable of. I think the big fourth quarter against Lawrence County sparked her and then she just carried it over to this game. I can see her confidence growing and that is big for our team."
Belfry stayed strong in the second half. The Lady Pirates closed the third quarter on a 12-0 run to push the lead to 68-23 and cruised to the 70-27 win.
Fletcher wasn't the only dominant scorer for the Lady Pirates, Belfry landed three players in double figures. Freshman guard Kyera Thornsbury added 18 points, 14 of those coming in the first half. Kyra Justice tossed in 11 points and Alyssa Varney scored seven points.
Pike Central's bright spot came at the foul line. The Lady Hawks made 15 of 16 free throws in the game. Emalie Tackett led the Lady Hawks with nine points, making seven of eight free-throw attempts. Sarah Justice tossed in eight points for Pike Central.
This snapped a two-game winning streak for Pike Central.
"We will get there," Campbell said. "We just don't have hardly any playing experience. But we are improving. We've got to get stronger. But our girls are battling, everything is new to them. This is a new team, a new coach and they are battling COVID restrictions, like everyone else. But I believe it is more difficult when you are as new as we are. We just have to keep working and keep getting better and we will get there."
For Belfry, Dekins believes the game tonight was a carry-over of the Lawrence County game and can see the confidence rising in his team.
"If you look at it, we battled a tough Floyd Central team, we played tough with Pikeville and a very good Knott Central team," Deskins said. "Then we pulled out one of those wins against a god Lawrence County team, who is a top three team in the region in my opinion. That win gave us confidence and it carried over. This is a team that cheers each other on, they play hard, they know the game, we've got a lot of potential, hopefully our confidence keeps growing."
With the win, Belfry improves to 7-3 on the season and Pike Central falls to 2-7.