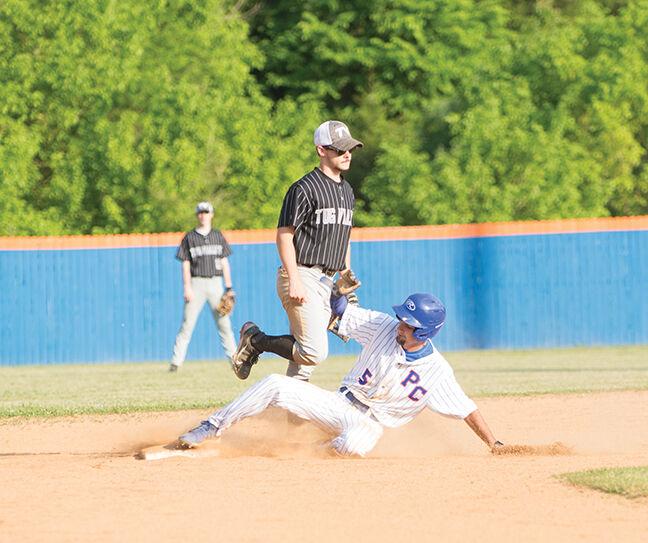 Tug Valley went on the road last Friday and even though, the Panthers got off to a hot start, it wasn't enough to overcome Pike Central as the Hawks picked up a 13-6 win.
The two teams met again Wednesday evening and Pike Central picked up a 12-2 win over the Panthers in six innings. The win also marked Pike Central coach Chris Lawson's 400th career win.
The Hawks offense kept pressuring Tug Valley's defense Friday evening.
The pressure was too much for the Panthers as Pike Central picked up a 13-6 win.
Tug Valley got on the scoreboard first.
In the top of the first inning with one on and one out, Justin Hall ripped a shot to left field. The ball looked like it had a chance to leave the yard, but hit off the fence. Hall stood at second with an RBI double as the Panthers held an 1-0 lead.
With two on and two outs, Connor Lackey hit a double of his own. Lackey's double drove home two runs as Tug Valley held a 3-0 lead.
Pike Central answered in the home half of the inning. Keegan Bentley was hit-by-a-pitch to lead things off for the Hawks. Bentley stole second and advanced to third and scored after a bad throw to third.
With one on and two outs, Peyton Compton delivered an RBI single to cut the lead to 3-2. Zac Crum followed with an RBI double to tie the game at 3-3.
The Hawks kept the pressure on in the bottom of the second. Bentley and Caleb Mouton each drew walks to put two runners on with one out for the Hawks.
Bryce Adkins followed and was hit-by-a-pitch to load the bases. With the bases loaded, Jarred Stanley reached on an error allowing two runs to score and pushing the lead to 5-3. Compton followed with a sacrifice fly RBI as Pike Central held a 6-3 lead after two innings of play.
Tug Valley got a run back in the top of the third inning. With two outs and two on, Hunter Ooten hit an RBI single to cut the lead to 6-3.
The Hawks got two more runs in the bottom of the third. Cameron Kimbler was hit-by-a-pitch to leadoff the inning. Kaden Crum advanced him to second with a sacrifice bunt. Issac Blankenship followed with an RBI single and a couple batters later, Mouton added an RBI single as the lead grew to 8-3.
Zac Crum went three for three with three RBIs for the Hawks. Compton was two for three with a double and three RBIs. Blankenship was two for four with an RBI. Stanley doubled and drove home two RBIs. Mouton and Kimbler each added hits for the Hawks.
On the mound, starting pitcher Blake Hager earned the win. Hager went two and 2/3 innings and gave up four runs on four hits with four strikeouts and five walks. Ben Huffman threw three and 1/3 innings of relief and gave up one hit, while striking out eight and walking one.
Blankenship came in and threw 2/3 of an inning. He struck out one batter. Lucas Anderson threw the other 1/3 of an inning. He gave up two runs on two hits with two walks.