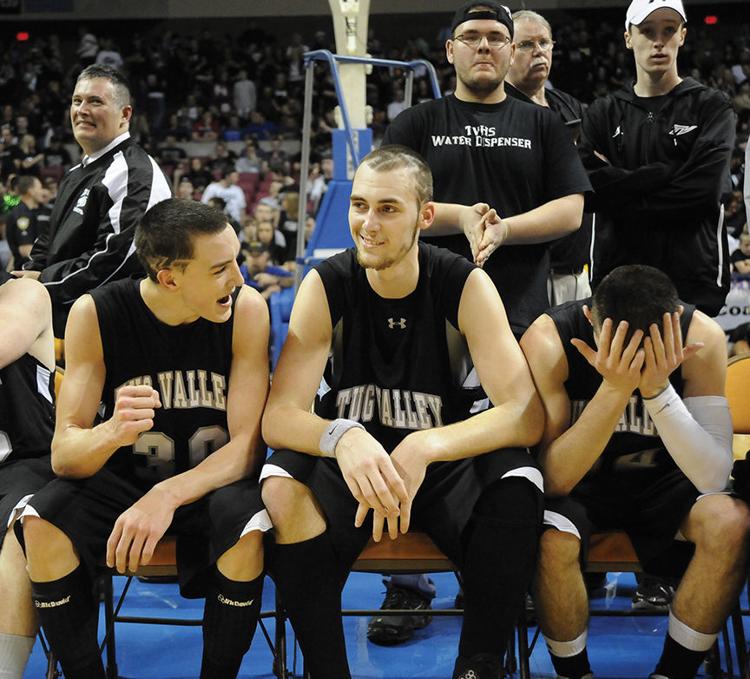 Bonds are strong, they are built through strife, pain, joy and sharing in experiences together.
Bonds built this way transcend through generations.
This is the case for this season's Tug Valley Panthers basketball team that had a magical run to the West Virginia AA State Tournament this season.
The 2019/2020 Tug Valley Panthers basketball team share a bond with one of the school's most dominant teams to date; the 2011/2012 Class AA state championship team. Tug Valley followed by winning the Class A state tiel in the 2012/2013 season.
The 2011/2012 Panthers were a team that sported one of the states most dominant big men at the time in Mason Pack, who went on to play college ball at Alice Lloyd College, and now resides in Tennessee.
Pack's 2011/2012 Panthers finished with a final record of 26-2.
The 2011/2012 Panthers finished the regular season with the top spot in the state's power rankings however, just missing the top spot in tournament seeding.
A seeding rank didn't stop one of the most dominant teams to date though as they steamrolled their way to the AA state title.
The tie that intertwines the 2011/2012 Panthers and this seasons Tug Valley Panthers is current head coach Garland "Rabbit" Thompson and all the lessons and will to persevere through adversity he instilled in his teams.
Thompson could not have predicted how his passion and tactfulness would have been passed down from one of the most dominant teams to date (2011/2012 Panthers) to this seasons team in which he made his return to coaching.
"Rabbit was one of the best coaches I've ever had. A lot of people at first didn't know how to take him because of his demeanor, but only those close to him knew him," Pack said. "He has so much passion and love for the game of basketball, and I'm sure that shows in his coaching. He always had little sayings, that at the time I never really thought nothing of, but they all make sense now as an adult."
There's only one way to get to see Thompson's true nature as coach.
"Behind the closed doors of practice, that's the side of coach that most people don't know," Pack said. "The man is a genius on the sideline. He's hands down the best practice coach and in my opinion, that made his job that much easier when it came to game time. He always kept us in stressful situations during practice, so no matter the situation, we were prepared."
Thompson is by all means a players coach; a man that breathes passion into his teams and through any circumstance, has their back.
Thompson and his approach to coaching hasn't changed.
Much like in the past, Thompson continues to put his players in stressful situations in practice and purposely puts together tough regular season schedules in order to prepare his squads for hardships to come.
Fans saw that this season as the Panthers sported one of the toughest regular season schedules in the state.
And Thompson proved himself right in doing so, seeing as to how the team started playing its best basketball late this season winning eight of their last 11 games as they ended up qualifying for the single A state tournament.
A lot of the Panthers success this season was derived from the chemistry they shared on and of the court.
This was much similar to the bond that Mason Pack's 2011/2012 Panthers team shared.
"The chemistry was already there. Even though I was a year older than Austin Brewer, Mikey Newsome and Aaron Muncy to name a few, we have played together since we were on little league." Pack said, "We have always battled it out on the floor amongst each other and then hung out after the games. Being from the small community we were in, we all were always together, so the chemistry was always there."
This is the same sentiment for this year's team as they too have known each other and battled throughout the little league ranks; constantly pushing each other along the way.
Some even dueling everyday in practice throughout their middle school journeys at Lenore.
"Coach was just another great addition to the chemistry we always had. The man was always pressuring us, and that only molded our bond as teammates and created this sense of trust, that no matter what, we were going to excel in whatever we faced," said Pack.
For both teams being talked about (2011/2012 Panther and this seasons); Thompson has seemed to only add upon the chemistry both teams had already had since their early years.
Chemistry that lead to a West Virginia AA State Title for the 2011/2012 Panthers, and what was looking to be a run at the big dance for this seasons Tug Valley squad.
This years team was set to be the eighth seed in the tournament and scheduled to play the No. 1 seeded Williamstown Yellowjackets.
When the two teams had last played in the regular season the Panthers narrowly lost 51-49.
But, the Panthers were playing their best basketball of the season and dominating late in the season much like the AA championship team in 2011/2012.
"The state tournament is something you dream of making it to in West Virginia. It's the biggest stage most high school athletes will ever play in, and the ones of us that were fortunate enough to play at the collegiate level are thankful for that stage to prepare us." Pack said, "What's most incredible is how the community comes together and how everyone is so supportive of their school. We had the best fan base in the state and got the plaque to prove it."
The support of the community was an invaluable trait that both teams shared in their journeys.
Filling the Tug Valley gym to where even standing room was hard to come by and time and time again turning away games into home games.
Pack described the masses of fans that showed up in support at the 2011/2012 state tournament in the Civic Center as a "Sea of Black."
"The kids that unfortunately missed out on the state tournament this year, they know what they are missing out on. They were there as kids on the front lines, cheering us on, just like we were when we were kids when Tug was at state. It all comes full circle." Pack said. "When anyone mentions that they have to play Tug Valley, they always dread it. Whether it be at the opponent's home court or at Tug, you know we were bringing the pressure and the fan base, so no matter where we played, we made it a home game."
This year's Panthers have had their season cut short due to suspensions on the season during the current COVID-19 outbreak.
"I absolutely hate it for these kids this year, because I know how hard they have worked to get to where they are and for it to be taken away from them, that's got to be gut wrenching," Pack added. "The kids on this year's team have a really close bond. I know the work ethic for these kids and they will be back next year stronger and more determined than they ever have. They got that taste for blood and they want what's theirs!"
This year's Panthers fortunately doesn't have a current senior on the roster and will return its core next season so there is no reason to doubt the chance these young men have at making the big dance next season.
"I've watched these kids from the time they were in little league and they have the same capabilities that we had. It's so unfortunate with this virus suspending the state tournament, because these kids worked so hard to get there." Pack added, "I even had one of the kids sending me messages of how he done in games and letting me know when the live streams were available so I could watch them where I live now in Tennessee."
This stems from a community that cares for one another and a basketball family that prides itself not only past successes but the future as well.
"It's so amazing to see the kids on the team now and how far they've come as athletes and young adults. These were the kids that idolized us when we were there and now they are there now in the same stage we were in, rocking that TV logo." Pack stated, "The 2011/2012 and 2012/2013 teams set a high standard for the teams to come and I think this year's team was going to live up to those standards."