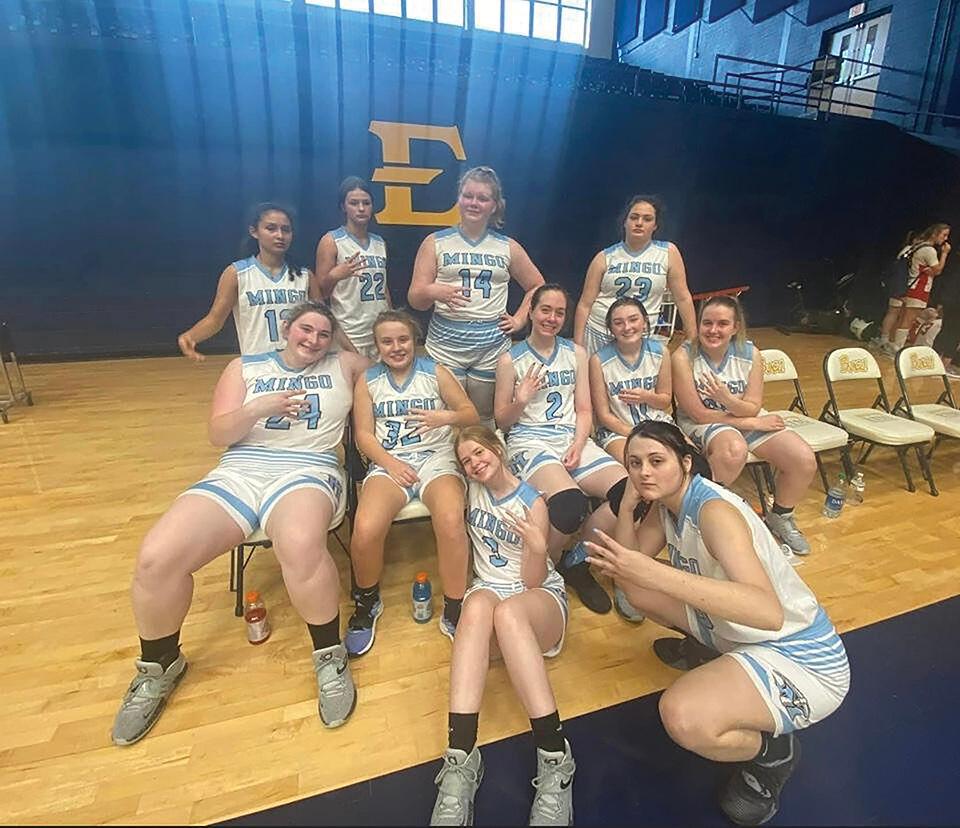 NEWTOWN – The Mingo Central High School girls' basketball team saw plenty of action over the summer during the three-week June practice period.
The highlight for the Lady Miners was a team camp at East Tennessee State University in Johnson City, Tenn.
"We faced some good competition at East Tennessee State," Mingo Central Coach Kim Davis-Smith said. "We played some teams from South Carolina there. We faced a South Carolina team that is the number two ranked team in the country, a prep school. We also played a team from Virginia, which is the defending Class AA champs. It was good for our girls and we were able to work on some things that we need to be better at. It was good to get away and build some team chemistry."
Davis-Smith said her team also played in other out-of-state team camps as well.
"We were also able to play at Rio Grande (Ohio)," she said. "We also played at the University of Pikeville team camp and at Greenup County in Kentucky. We played over 20 games during the three-week period this summer. All the teams that we played gave us some good competition."
Mingo Central is coming off a 16-9 season a year ago, a sectional championship and a berth in the Class AA regional co-finals.
MCHS had no seniors on last year's team, so that bodes well heading into the new season in December.
"We had some success this summer and we have everyone coming back," Davis-Smith said. "We always want to work on our game because people are always working on their game everywhere. If you don't, you just get behind. We hope that our girls continue to work and get in the gym and weight room."
The Lady Miners' 2022-23 schedule features several big games and difficult match-ups.
"Our schedule is tough. We play Summers County twice and Charleston Catholic twice. Chapmanville, of course, is on the schedule," Davis-Smith said. "I'm really excited about this group. We had eight freshmen last year. We'll be young again this year but I'm excited."
Mingo Central has home-and-away series against Class A power Charleston Catholic, 2A sectional rival Chapmanville and last year's Class AA state runner-up Wyoming East, which finished 16-4 after falling 67-35 to Parkersburg Catholic in the finals.
The Lady Miners also play Parkersburg Catholic in Logan High School's Lady Wildcats Showcase, slated for Jan. 7 at Willie Akers Arena.
The Crusaders finished undefeated last year with a 24-0 mark.
A home-and-away series with regional rival Summers County is also on the schedule.
Last season, MCHS defeated Chapmanville, 47-45, in the sectional finals on the road, then lost 50-36 at home to Summers County in the regional co-finals, leaving Mingo Central one game short of reaching the state tournament for the second straight year.
The win over Chapmanville avenged a pair of losses to the Lady Tigers during the regular season.
Mingo Central, which has won two sectional titles in the last three years, is expected to meet Chapmanville again in the sectional finals. Chapmanville, like Mingo Central, returns most of its players from last season. The Lady Miners lose no seniors from last year's squad.
The Lady Miners have also been invited to play in next season's Battle for the Springhouse tournament at the Greenbrier Resort, set for Feb. 3-4.
All games are to be played in a unique setting on a retro-fitted basketball court inside the Greenbrier's Centennial Hall ballroom.
The inaugural Battle for the Springhouse was played last season over a span of two days.
Returning for Mingo Central is rising sophomore point guard Addie Smith, a Class AA First-Team All-State selection from last year.
Smith, one of eight freshmen on last year's roster, averaged 20.4 points, 3.0 rebounds, 4.7 assists and 2.3 steals last season and shot 78% from the free throw line.
The Lady Miners also return a trio of rising seniors – guard Megan Adkins, forward Alyssa Davis and center Madisyn Curry, and also a host of other players.
Curry was an Honorable Mention All-State pick last year.
MCHS is slated to begin regular practices on Nov. 8.
The sectional tourney is slated to begin on Feb. 21 with the regionals to be played on Feb. 28.
2022-23 Mingo Central
High School
Girls' Basketball Schedule:
Dec. 3: Charleston Catholic, 7 p.m.
Dec. 5: at Liberty-Raleigh, 7 p.m.
Dec. 8: Scott, 7 p.m.
Dec. 10: at Tolsia, 7 p.m.
Dec. 13: at Chapmanville, 7 p.m.
Dec. 17: Westside, 7 p.m.
Dec. 20: East Ridge, Ky., 7 p.m.
Dec. 22: at Wyoming East, 7 p.m.
Jan. 2: at Westside, 7 p.m.
Jan. 7: vs. Parkersburg Catholic (at Lady Wildcats Showcase, Logan), TBA
Jan. 11: Wyoming East, 7 p.m.
Jan. 13: Liberty-Raleigh, 7 p.m.
Jan. 17: at Chapmanville, 7 p.m.
Jan. 21: Summers County, 7 p.m.
Jan. 26: at Charleston Catholic, 7 p.m.
Jan. 28: Tolsia, 7 p.m.
Jan. 31: at Lincoln County, 7 p.m.
Feb. 3: vs. TBA (at Battle of the Springhouse, The Greenbrier), TBA
Feb. 4: vs. TBA (at Battle of the Springhouse, The Greenbrier), TBA
Feb. 8: at Gilmer County, 7 p.m.
Feb. 10: Lincoln County, 7 p.m.
Feb. 11: at Summers County, 7 p.m.