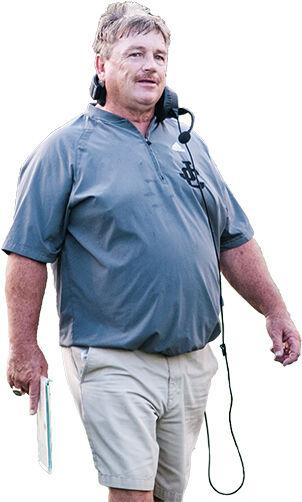 Johnson Central football and wrestling coach Jim Matney passed away Tuesday.
Matney lost his battle with COVID-19 and complications from the illness.
Coach Matney was a two-time Class 4A state champion on the football field at Johnson Central and was a two-time state champion wrestling coach as well.
The Johnson County school district released a press release that stated:
"Today, our Johnson County Eagle Family is heartbroken as we come to terms with the loss of a wonderful man and a remarkable coach. Most important, our hearts, love and concern are with Debby, Dalton and Carson.
Coach Jim Matney touched the lives of many in Johnson County and throughout the state. We, along with the family, appreciate all your prayers and encouragement. As a family, we will love and support each other as we heal, yet as we mourn, we also want to celebrate Coach Matney's life and legacy. We are thankful for his example of strength and perseverance, and want to remember his many accomplishments.
 Matney is revered as one of top football and wrestling coaches in the country with high school coaching tenures at both Johnson Central and Sheldon Clark. He amassed a tremendous record of 309-132 as a football coach, including five state championship game appearances and two Class 4A state titles and has been honored as Kentucky Football Coach of the Year.
As a wrestling coach, Matney was equally as dominant. He coached Johnson Central to the last 12 consecutive regional championships including two State Duels championships and numerous individual state champions.  He also earned two state team championships at Sheldon Clark. In recognition of his tremendous success, Matney was named the NFHS National High School Wrestling Coach of the Year in 2020.
Coach Jim Matney will most certainly be missed by Johnson County Schools. But above all, we ask that you would please keep Coach Matney's wife Debby and boys in your prayers, as well as, the young men on the Central Football and Wrestling Teams."  
Bob Hutchison, chairman of the Johnson County School Board, was devastated at the passing of coach Matney.
"My heartfelt sympathy goes out to the Matney family over the loss of coach Jim Matney," Hutchison said. "His passing was a huge loss for the entire community and Johnson County school system. It's devastating for the young people he worked so hard to coach on the football field and wrestling mat. His ability to create champions and winners in unparalleled, even when his teams or players didn't win championships, he made them feel like winners. Coach Matney always had a vision and was able to get the best out of everybody around him. He will be sadly missed by all.
Johnson Central player Mason Lawson was devastated by the news of his Matney's passing.
He expressed his feelings on social media:
"My heart is broken, Lawson said. "No words to describe the man Jim Matney was and what he meant to me. He believed in me when I didn't believe in myself and I'm forever grateful to play for the best coach to ever take the field. Rest easy coach."
Matney was a Belfry native who started his coaching career at Sheldon Clark (Martin County) in 1984.
"We lost a great football coach today, but more importantly, we lost a great man," Belfry coach Philip Haywood said. "He was so much more than a football and wrestling coach. He was a great husband and father to his family. He was also a great influence on his community. Sometimes we don't see the total picture and just want to focus on the football coaching aspect because he was so successful, but we can't lose sight of what a great man he was.
"We were competitors, but we were pretty close. We talked frequently and we were friends. I know he used to say, 'I know we're competitors, but we're still friends' and we were. We might've been competitors on Friday nights, but after that, we were friends."
Haywood remembers Matney leaving Belfry to take over at Sheldon Clark.
"When I first got to Belfry, he took the Sheldon Clark job just a few months after I got there," Haywood said. "He built them up into a good program and when he took over, they were at the bottom of the barrel. We got to spend a lot of time together in those first few months. What he did at Sheldon Clark and then building Johnson Central into one of the best programs in the state, not just in Class 4A, but in general and winning a couple of championships and doing the same with wrestling, just shows what a great coach and motivator he was; it speaks volumes of what kind of impact he made on his kids."
Matney made an impact in Johnson County.
Former Paintsville coach Joe Chirico shared some of his thoughts on Matney.
"I've been thinking about it since I heard the news of his passing," George Rogers Clark coach and former Paintsville coach Joe Chirico said. "I think the greatest thing that stood out to me about coach Matney was what a fierce competitor he was. He made everybody's coaching level go up to try and meet his. He gave his best every single day and he got his kids to do the same. But more than coaching, he was a great man. He was a great ambassador for Eastern Kentucky. It's just a terrible day. It's atrocious really knowing what a great man we lost today. He was adamant about how great Eastern Kentucky was and he was proud of where he was from. He loved the people of Johnson County and Eastern Kentucky. He made an impact everywhere. I'm sure there are some people who are having a hard time in Martin County and Belfry besides just Johnson County. Really all of Eastern Kentucky and the state are hurting. We lost a great ambassador of the sports of football and wrestling today. It's just a sad sad day in the state of Kentucky. Coach Matney will be missed."
Matney took over the coaching duties at Johnson Central in 2004.
Matney had a 309-132 career record. At Johnson Central, he compiled a 184-36 record on the football field. Matney led the Golden Eagles to state championships in Class 4A in 2016 and 2019.
On the wrestling mat, he was just as successful. Here are some of his accomplishments from coaching wrestling:
Kentucky State Coach of the Year (1994-95), NFICA State Coach Of the Year (1999), Kentucky Wrestling Coaches Hall of Fame (2007), Kentucky Wrestling Coaches Hall of Fame (2007), NHSACA National Coach of the Year Finalist (2002), NFS National Coach of the Year (2020).
KHSAA State Champions (1994), Dual and Tournament Champions (1995), State Dual Runner-up (2013), Blanton Collier National Award winner (2018), Kentucky State Dual Champion (2019), and State Tournament Runner-up (2019).
Coach Matney was an ambassador for Eastern Kentucky.
Not just athletics.
He wanted what was best for the kids and people of the area.
"He was an ambassador for Eastern Kentucky football and wrestling," Haywood said. "He was able to build two dominate programs. He never left the region and wanted the best for all the kids and people here. He and I were similar in that as we got older, we became more of ambassadors for the Eastern Kentucky and showing that if you give the kids the opportunities they can achieve great things just like any kid from any place else.
"My heart and the heart of the Belfry community go out to his family and friends right now," Haywood said. "Our thoughts and prayers are with his family at this trying time."
Publisher's Note: We at Appalachian Newspapers, Inc. and the Paintsville Herald are saddened with the news of the passing of Coach Matney.
Coach Matney was not only a great coach, he was a great man who loved his immediate family and extended family that included his community, church and players past and present.
His commitment to providing opportunity to the kids from the mountains is one of the virtues that made him a legend. Our heartfelt condolences go to Debbie, Dalton and Carson as well as the entire Eagles' family.
Coach Matney will be sorely missed but his mark on the communities he served will be forever notched in history. Soar high Coach Matney.