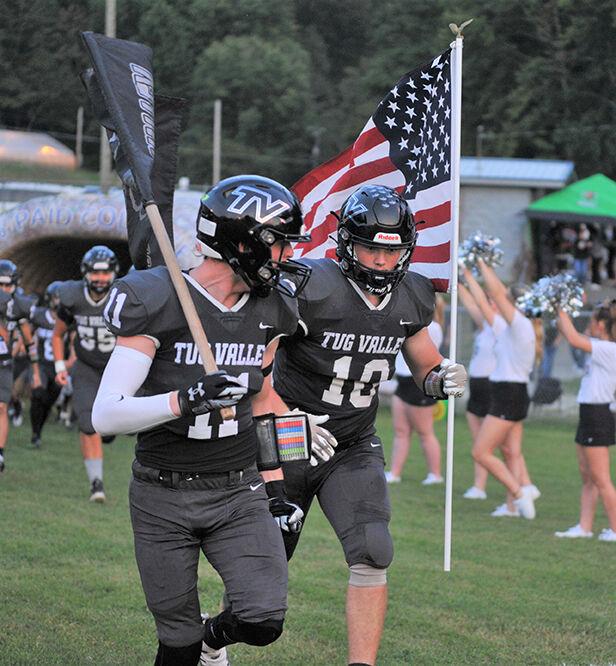 NAUGATUCK – The Chinese zodiac calendar says this is the year of the Tiger.
However, in the southern West Virginia coal fields, this could be the year of another kind of cat.
It could be the Year of the Panther.
The Tug Valley High School football team, ranked No. 2 in the state in this week's WVSSAC Class A ratings, stayed unbeaten on the season with Friday night's 33-22 victory over East Ridge, Ky., at Tug Valley's Bob Brewer Stadium in Naugatuck.
It was a special night for Tug Valley.
Not only did TVHS improve to 4-0 and will stay near the top of the Class A rankings, the game also doubled as the annual Tug Valley Hall of Fame Game and Homecoming Game.
The Panthers trailed the Warriors 22-19 at halftime after gift-wrapping East Ridge's last minute score going into the break, but were able to regroup and punch in a pair of second half touchdowns to put the game away.
"We're still a young team, and we are a bit surprised to be 4-0 but I'm excited to be 4-0," Tug Valley Coach Hady Ford said. "Nobody expected us to be here and I wasn't sure that we would be here but we're here and we're getting better every week. If we can just get the right attitude, get a little fire under us, stop pouting on ourselves sometimes and learn how to play tough football we can do something."
Tug Valley freshman running back Bryson Elia was the Panthers' workhorse, rushing 36 times for 237 yards and three touchdowns on runs of 3, 8 and 8.
Elia carried much of the load for sophomore running back Adam Slone, who added a 9-yard TD run but was a bit banged up. Leading just 25-22 after three in the nail-biter, Tug Valley sophomore QB Elijah Fluty put the game away with a late touchdown run.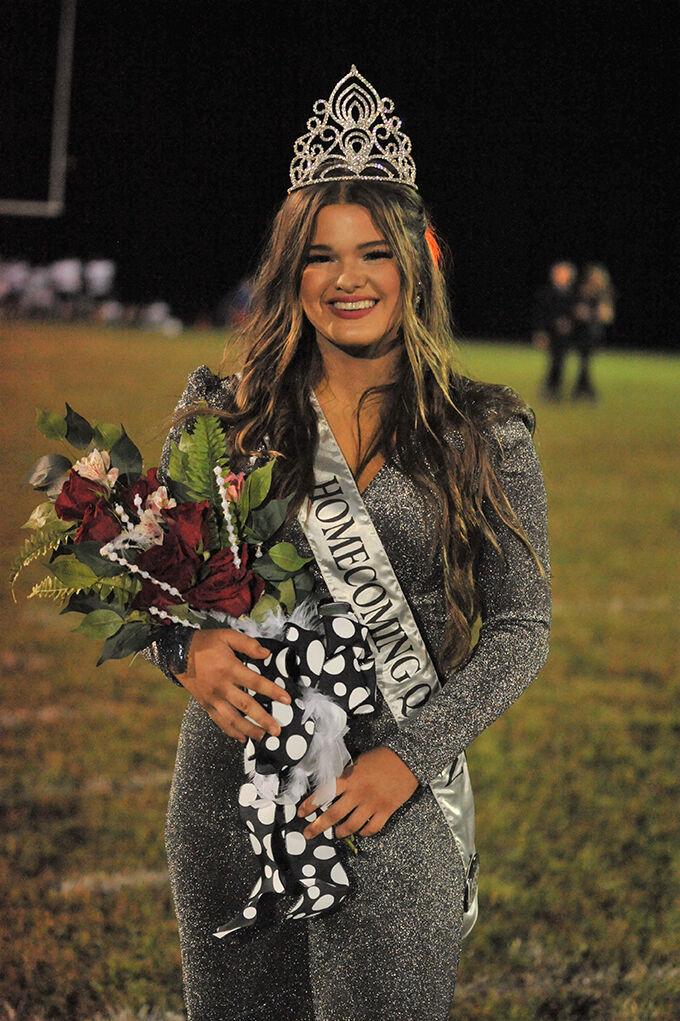 Elia ran hard all night for the Panthers with several big runs down the sideline and also having some tough yardage between the tackles, most of the time getting the ball on draw plays from Fluty, who was in the shotgun.
"When we run our plays I don't care who runs it," Ford said. "Adam's knee was hurting a little bit tonight so Bryson got a lot of carries. He played like a man tonight. He was a freshman playing among men."
East Ridge dropped to 2-2 on the season but put up a good fight and made the Panthers sweat. 
"We were in a dog fight," Ford said. "We were down at the half and we had to show what we are made of. I wasn't sure if we were going to be able to win the second half or not but these guys showed a little bit of grit and we won. I ripped into them pretty good at halftime and they rose up to the challenge."
East Ridge trailed 13-0 after one quarter and was down 19-8 but rallied.
A 68-yard touchdown run by Isaiah Adkins at the 7:03 mark of the second quarter, and a Dylan Burdine-to-Adkins two-point conversion play cut Tug's lead to 19-16.
Then, facing a fourth-and-15 at the Panthers' 37-yard line, an unfortunate set of events went against Tug as three straight offsides penalties gift-wrapped East Ridge a first-and-10 at the 20.
Two plays later, Burdine fired to Zack Mason on a 19-yard TD pass, putting the Warriors on top 22-19 with 42 ticks to go in the first half.
The Panthers went into the locker room at halftime on their heels.
But that didn't last long.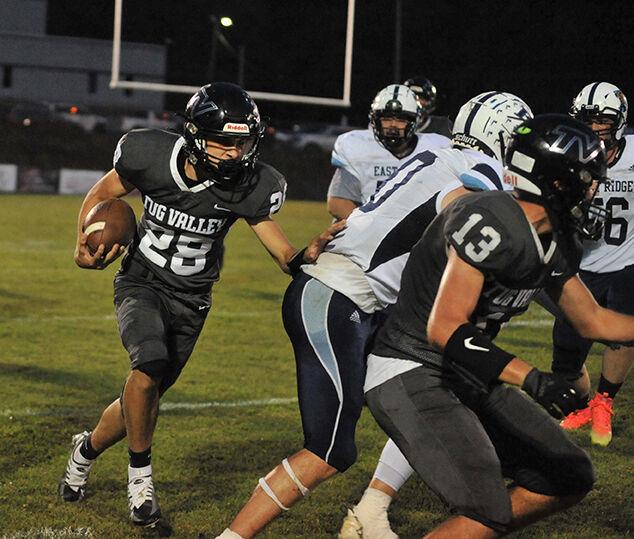 "We have to learn to not make mental mistakes and not get down on ourselves because we lose our enthusiasm. We have to learn to get past those things," Ford said. "Those penalties just about killed us. They were penalties that I just about went irate on."
The defense stepped up for Tug Valley in the second half, holding the Warriors scoreless.
"We rose up," Ford said. "There's things that we can do. We get complacent sometimes, go to sleep and forget our keys and that's just a sign of a young team. Once we start to learn how to be a really good mentally tough team then we can be a solid team but we just lose that sometimes and that's because of our youth and inexperience. Hopefully those mistakes will go away."
Ford said East Ridge is a good team. Burdine, with a cannon-like arm, threw the ball deep on a number of occasions and nearly hit his target on many of those tosses.
"They are a really good football team and they can play. Their quarterback is good. This is not the old East Ridge," he said. "We beat a good football team tonight."
Tug Valley scored on its opening possession on a 13-play, 63-yard drive, capped off with Slone's 9-yard TD run with 6:11 left in the first quarter. Caleb Totten kicked the PAT to make it 7-0 Tug Valley. The drive was kept alive with a fourth-and-one conversion at midfield with Fluty's 5-yard keeper.
Elia later gave the Panthers a 13-0 lead with a 3-yard touchdown run with 1:58 to go in the opening period. He had runs of 30 and 20 on the drive.
The Warriors struck back with Burdine's 28-yard TD pass with 11:16 to go until halftime. Burdine tacked on the two-point conversion run, cutting the deficit to 13-8.
The Panthers pushed the lead to 19-8 with 7:24 to go as Elia reached paydirt from 9 yards out. The extra point attempt failed due to a bad snap.
Adkins's long 68-yard dash to the house with 7:03 left on the very play from scrimmage made it a 19-16 ballgame.
The game keeps Tug Valley not only in the thick of the Class A playoff race but also in the hunt for a home playoff.
The top 16 teams in each class qualify for the playoffs with the top eight getting first-round home games.
"If we get there we get there and if we don't we don't. The only thing that matters is that we make it to the playoffs and we'll see what happens after that," Ford said. 
This is Tug Valley's best start since 2015 when the Panthers began 4-0 and finished up 8-4 and a Class A quarterfinal playoff berth.
Slone added 10 carries for 63 yards for the night. Fluty had four attempts for 26 yards. Noah Canterbury had one rush for six yards.
Fluty was 4 of 9 passing for 23 yards.
Ashton Davis had two catches for eight yards. Brewer snatched one pass for seven yards. Elia had one grab for eight yards.
Adkins led East Ridge with 12 carries for 115 yards. Burdine was 10 of 16 in the air for 141 yards with two touchdowns.
Austin Smith led the Tug Valley defense with seven tackles. Davis, Slone and Elia had four stops each. Marcum and Paul Preece each had three tackles. Vance and Dakoda Walker recorded two tackles each. Brewer, Fluty, Jaxon Nenn-Mills, Michael Curtis and Luke Bartram all had one tackle.
Davis also had a sack.
Fluty, Damron, Parker Davis, Totten and Vance each had special teams tackles.
Damron punted twice for Tug Valley for an average of 37 yards per boot.
Tug Valley outgained East Ridge 360-352 in yards of total offense. The Warriors had 27 carries for 166 yards, while the Panthers ran with the ball 52 times for 337 yards.
East Ridge was led on defense by Mason and Steven Layne Todd, who had seven and six tackles respectively.
East Ridge still leads Tug Valley, 3-2 in the all-time series which dates back to 2010. The Panthers' only other win in the series was a 14-0 victory in 2011.
The Warriors were a last minute replacement back in the summer to Tug's schedule. TVHS was originally slated to host Phelps, Ky., but the Hornets were dropped from the slate due to low numbers and uncertainty within the Phelps program.
Cami Thompson was crowned at halftime as the TVHS Homecoming Queen.
Prior to the game, at the official Hall of Fame induction ceremony at the school, Tug Valley's second class was enshrined. This year's Hall of Fame class was made up of: Tony Clusky, Austin Brewer, Jonathan Dingess, Mikey Newsome, Seth Ooten and Tristan Bailey-Spaudling. 
Tug Valley will look to stay unbeaten next Friday, Sept. 23 as the Panthers are scheduled to hit the road at Hurley, Va. 
East Ridge is set to host Prestonsburg, Ky., next Friday night.
Both games have kickoff times of 7:30 p.m.
2022 Tug Valley 
High School Football Schedule (4-0):
Aug. 25: Shady Spring, W 32-21
Sept. 2: at Sherman, W 32-8
Sept. 9: at Symmes Valley, Ohio, W 27-6
Sept. 16: East Ridge, Ky. (Hall of Fame Game and Homecoming Game), W 33-22
Sept. 23: at Hurley, Va., 7:30 p.m.
Sept. 30: at Tolsia, 7:30 p.m.
Oct. 7: BYE WEEK
Oct. 14: Mount View, 7:30 p.m.
Oct. 21: Westside, 7:30 p.m.
Oct. 28: Man, 7:30 p.m.
Nov. 4: at Van, 7:30 p.m.