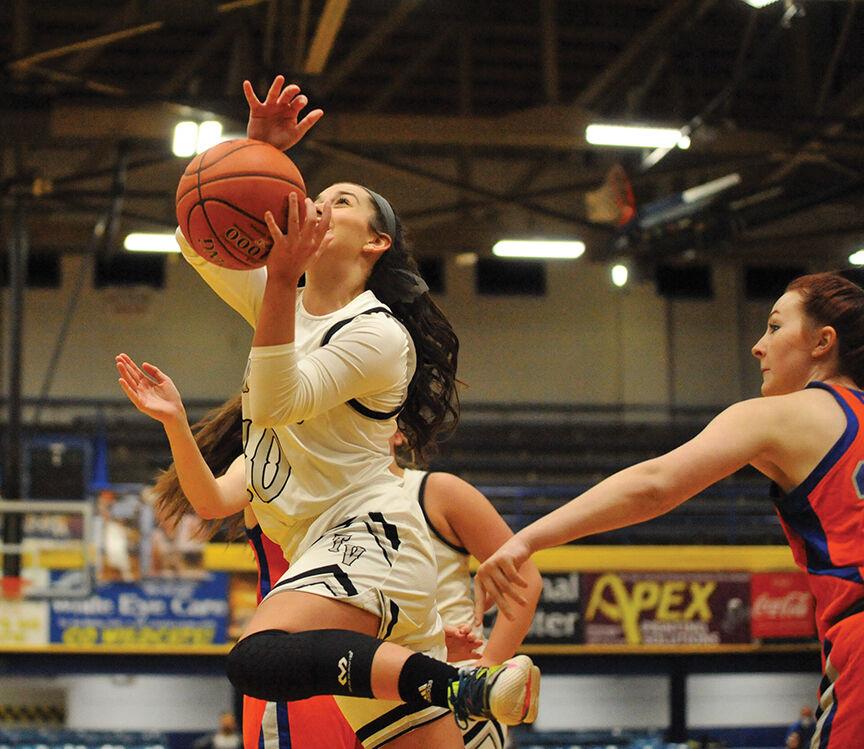 It was years in the making. Since little league, most of the Tug Valley Lady Panthers have played, or at least, been around each other in some fashion daily growing up. There's a bond that no one outside Naugatuck will ever understand. They're family. And now they're the 2021 Class A state champions.
No. 1 seed Tug Valley was the favorite from the start, as they mowed their way through the field, to go on to claim the title over Cameron 63-45 Saturday morning.
The Lady Panthers (15-2) rolled into Charleston with one goal in mind. The Class A championship trophy.
Bottom line.
They thumped Pendleton County 67-24 in the opening round game last Tuesday as Kaylea Baisden went unconscious and set the state tournament record for three pointer's in a game with nine. She finished with a game-high 33.
"I didn't really think much about it until the end," Baisden told MetroNews Radio. "I was surprised myself."
They cruised over Tucker County the following Thursday 49-31 to advance to the state title game on Saturday and face the Lady Dragons of Cameron.
The Tug Valley starting five were phenomenal throughout the tournament, with Makayla May, Audrey Evans, Alyssa Newsome and Autumn Hall all playing well on the big stage.
Evans went a perfect four-for-four from deep for 15 points on Baisden's record night as well. May played exceptionally well on both ends during the tournament, all but shutting down Tucker County's Kadie Colebank, who, happens to be 6-foot-1. Colebank scored 16 in the Lady Mountain Lion's first round win. May put the glove on her, answering with a double-double of 16 points and 11 boards, while holding her to just two points for the game.
Tug Valley head coach Clyde Farley is no stranger to Charleston, as he had brought the Lady Panthers during his first stint at the helm in back-to-back years in 2003 and 2004. After taking time off due to health reasons, the longtime coach wondered if he would ever return to the game. However, as fate sometimes does, the job at Tug Valley opened at just the right time and he returned.
Upon his arrival, the team was at a low point. He quickly turned the program around and into a contender just as he had in the past. The Lady Panthers finished a dismal 4-15 in the 2017-18 season. Farley worked a miracle in his first year with a 16-8 mark and making the playoffs.
They finished 13-6 last season and made the playoffs a second time. Baisden and May have both been selected to the all-state team in Class A multiple times.
Farley knew this team was special. The Lady Panthers started the year with a win on the road 77-21 over the Poca Lady Dots. Their record drew even after a loss to Lawrence County (KY) in their home opener 62-53. Tug Valley exacted revenge a week later, defeating the Lady Bulldogs in Louisa 73-71 in a thrilling overtime win.
The Lady Panthers final loss of the season came against St. Joe's in Naugatuck. In what was a dogfight, Tug Valley lost by 10, 56-46. Farley's team would never look back after that loss.
Tug Valley took an 11 game winning streak into the championship game. The Lady Panthers felt disrespected by the 'powers-that-be' throughout the season, as far as rankings and seeding in the postseason, but these young ladies knew they were the best team in the state.
To open the state title game, Cameron took control early on three-point shooting by Kenzie Clutter to hold a 12-11 lead, but the Lady Panthers quickly nipped that in the bud. Tug Valley exploded to start the second, outscoring the Lady Dragons 20-6 in the quarter. Baisden and Evans both got the quarter started with a pair of threes that led to an 8-0 run. Half of Cameron's points in the second came off Ashlynn Van Tassell's amazing half court buzzer-beater at halftime.
"We settled down. We were a little tight in the first quarter. We started playing our brand of basketball. As we play our brand of basketball, we get these runs," Farley said.
Cameron tried to reared it's head in the second half, but a big third quarter from May quelled any comeback hopes. She scored eight of her 15 points in the third. She also stepped up on the defensive end as the Lady Panthers led 45-30 after three periods.
The Lady Dragons made one last ditch effort in the fourth as Reagan Gray scored four quick points and Lili Neely's three cut the lead to 11, however, Baisden put the icing on the cake with her second bank-shot-three to put the Lady Panthers up by 14.
Tug Valley wins their first ever state title in girl's basketball. What makes it even more sweet, they won it on head coach Farley's birthday.
"We felt this was our day. We came here not to play in a state tournament, but to win a state tournament," Farley told MetroNews Radio.
This team knew they were the best team in Class A. And the Lady Panthers left no doubt. From the coaches to the bench, they knew they were winning.
"It's amazing. We knew this was going to be our year. We had to wait it out and play it out, but this is our year," May said.
This title, is not only big for Tug Valley as a team. It's big for the whole community of Naugatuck and Mingo County. The last state champion from Mingo County were the Burch Lady Bulldogs in 1990.
"I came out and knew what I had to do, I had to win it for my seniors," Baisden said.
Baisden finished with 25 points, nine assists and seven rebounds in the title win. May recorded another double-double with 15 points and 11 rebounds. Alyssa Newsome also scored 15 points in her final game in a Panther jersey. Newsome also made three threes in the win.
Audrey Evans, finished with seven rebounds, six assists and five steals. Autumn Hall, finished with 13 rebounds in the game.
Van Tassell led the Lady Dragons in scoring with a double-double of 15 points and 14 rebounds. Lili Neely finished her career with 11 points, eight boards and three steals in the loss.
Tug Valley will have to replace May and Newsome as seniors, but return the rest, as they will no doubt be looking to repeat in Class A.
Congratulations to the Tug Valley Lady Panthers on their 2021 Class A state championship.