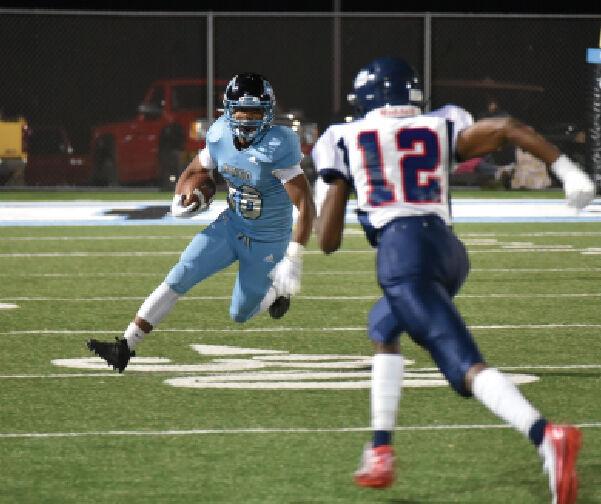 The Mingo Central Miners were anxious to get their season underway.
The Miners missed their first five weeks of the season due to cancellations caused by the COVID-pandemic. As soon a they were cleared to play, they played a very rare Wednesday night game.
However, the anxiousness would turn to heartbreak, as the Hillbillies from Man, left Miner Mountain with a 28-24 road win.
Man's Justin Grimmet scampered 20 yards for the score as he stripped the ball away from Miner quarterback Daylin Goad with 8:48 to play in the first. The extra-point failed, and Man held a 6-0 advantage over the Miners.
Mingo Central answered back however, posting a long drive that ended as Goad scored on fourth and two from the two-yard line with a minute to play in the quarter. Coach Josh Sammons made the call to go for two, and Goad connected with Isa Scales to put the Miners on top 8-6.
The Hillbillies went to the air to start the second. Israel Canterbury threw his first TD pass to Grimmet with 5:13 to play before the break. Canterbury called his own number on the two-point try and converted giving Man a 14-8 advantage that they took to the locker room at halftime.
The Miners wasted little time in the third as Goad rushed for his second TD of the night. After the score, the Hillbillies were called for back-to-back penalties on the extra-point attempt. The Miners  opted for the two-point conversion and regained the lead, 16-14.
The Hillbillies struck first to start the fourth. Canterbury connected with receiver Jeremiah Harless for the score. Man extended its lead to 20-16.
The Miners put up a valiant effort, however, in the end the Hillbillies prevailed in a close one, 28-24.
Man moves to 1-1 on the season with the win.
Mingo Central falls to 0-1 on the year.
Man has an open date this week.
Mingo Central is making the most of the clearance from the state and will be on the road Friday as the Miners travel to Oak Hill, Va. Another rarity of playing two games inside a week.