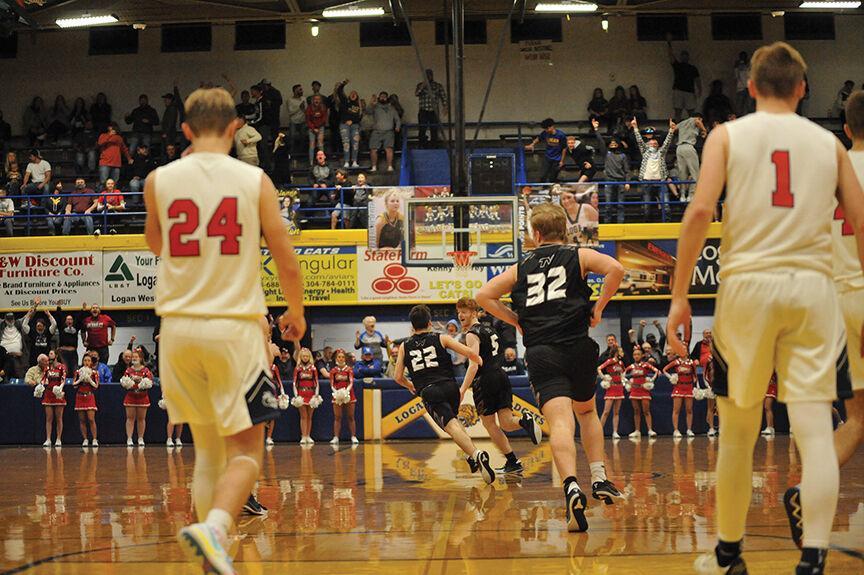 Growing up in the mountains, every kid from our area spends years in the backyard, counting down the clock; 3... 2... 1...
Countless NBA titles have been won. The Wildcats and Mountaineers have hit more buzzer-beaters than all other schools combined and they have never lost a backyard game.
That buzzer-beating moment became real to Tug Valley's Joby Sorrell last week against Man.
The Panthers knew they were in for a big test last Tuesday night against Man. The Hillbillies handled Tug Valley back on March 24th 85-56 at home.
Head coach Garland "Rabbit" Thompson knew his team was better than that showing and the Panthers were itching for another shot. Tug Valley did not squander the opportunity for revenge, taking down the Hillbillies 53-50 on a last second buzzer-beater by Joby Sorrell.
The Panthers led 15-13 after one period of play. Caleb May scored seven of his 19 points in the opening frame. Ethan Colegrove added five quick points in the quarter as well.
The Hillbillies would charge back in the second, outscoring the Panthers 10-7 before the half. Man had length and tried to impose their game plan on the Panthers. The two went back and forth nearly the entire game as Man headed to the locker room leading 23-22.
Hope looked to be fleeting to start the second half, as Man went beyond the arc to try and put the game away as Austin Ball and Peyton Adams each hit one and two three's respectively.
The Panthers, were down one point by nine in the game and faced an eight point deficit after three quarters of play.
However, the whole game shifted to start the fourth and final period.
Tug Valley at that moment had enough of Man's game plan. The Panthers eradicated the Hillbillies lead as Caleb May carved his way through the lane like a surgeon. His ability to get to the glass for a high percentage bucket is astonishing. Colegrove's huge three was a big swing for Tug Valley. The defense totally locked down Man in the fourth.
Sorrell, who hit a big three pointer in the first half, knew he had to step up for this game, he just didn't know yet how far. He scored on a beautiful and crucial reverse layup late in the game, but it was those final few seconds that will last generations.
Tied at 50-50, Ball goes to the line for the Hillbillies. With the roof bouncing off Willie Akers Arena, he missed the front-end. Tug Valley's Thompson immediately took a timeout.
Thompson's attempt to freeze the shooter paid off as Ball missed both. In what was a coaching masterpiece by Thompson, May stood at the top of the key, tied at 50 with under 10 seconds to play. He dribbled, watching the clock. When it was go-time, May made his move, as Man just knew it would be in his hands. As they collapsed on May, Sorrell made his cut out to the wing adjacent to May. With seconds ticking down, there was Sorrell wide open and waiting. Every fan in the arena knew it was good once it left his fingers.
And it was. Panthers win 53-50, in what was instant classic.
"First and foremost thank you Jesus, thank you Heavenly Father," said Panther head coach Rabbit Thompson.
"Man, is probably the best team in the state. They are very, very good. You've got to give hats-off to Man, they were ready to play."
With the win, Tug Valley (11-2) advanced to Wednesday night's sectional final against Gilmer County, however, that game was canceled due to COVID-19 complications with Gilmer County.
Gilmer then forfeited and Tug Valley will advance to the West Virginia state quarterfinals against Cameron. The Panthers now sit at 12-2.
Scoring
Tug Valley —  Caleb May 19, Ethan Colegrove 10, Ian Reed 9, Joby Sorrell 8, Justin Hall 5, Easton Davis 2.
Man — Austin Ball 19, Peyton Adams 9, Jeremiah Harless 8, Ryan Cozart 7, Jackson Tackett 4, Caleb Blevins 3.